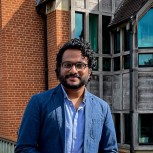 Research Associate in Infrastructure Asset Management
Academic Division: Manufacturing and Management
Research group: Manufacturing Systems
Telephone: tbc
Email: mp979@eng.cam.ac.uk
---
Research interests
Research on risk-informed whole-life asset management of transport infrastructure while considering wider socio-technical, economic and environmental aspects. Investigating questions on safety, justice and governance of transport systems, and transport as a means to sustainable development in urban and rural settings through data-centric approaches. 
Strategic themes
Energy, transport and urban infrastructure
Research on delivering data-centric techniques to improve transport asset management decisions, thereby informing policies and governance structures that appraises transport infrastructure from a sustainability and resilience perspective under uncertain scenarios. Developing frameworks/approaches based on whole-life-cycle principles to evaluate the sustainability of transport systems (e.g. smart motorways, rural road networks, railways, bridges) and urban transport development schemes (e.g. green infrastructure corridors, urban transport justice, sustainable transport).
Complex, resilient and intelligent systems
Research on risk-informed approaches and development of decision-support-systems to deal with uncertain and future scenarios (e.g. impact of climate change, operating under budgetary constraints, change in travel behavior, unavailability of data etc.) to ensure the resilience of the transport infrastructure and services.
Research projects
Risk-informed value-based asset management of critical transport infrastructure
The project within the Centre for Smart Infrastructure and Construction is developing a risk-informed approach to bridge asset management while considering the operational, structural, functional and environmental risks of bridge failure. To this end, the project aims to identify cost-effective inspection regimes for bridges by considering a value-based approach to decision making. The approach achieves this by arriving at a trade-off between the costs and value of information gathered through different monitoring techniques (such as sensors, satellite monitoring etc.) against a given risk level of bridge failure. The outputs of this research will aid the infrastructure owners and managers to (i) make value-based decisions for tackling budgetary constraints, (ii) make a value-for-money justification to the regulatory authorities for their investment, and (iii) encourage a predictive and preventative asset management regime for critical infrastructures. For example, given a risk level of bridge failure, what is the best monitoring strategy over a given planning horizon? Or for a given route and budget, which bridges need to be monitored and to what level? 
Enhancing asset management using 5G and IoT
The project within the Asset Management Group at the Institute for Manufacturing makes the Port of Felixstowe the largest in the UK to deploy 5G and IoT technology to enhance productivity, efficiency and safety across its core operations. Funded by the UK Government, this project also looks at harnessing innovative artificial intelligence and machine learning concepts to put forward a predictive asset management regime within the port. The project partners are Three UK, Blue Mesh Solutions, Ericsson, Siemens and the Port of Felixstowe.
Other positions
Biography
Dr Sasidharan is a Research Associate in Infrastructure Asset Management at the Centre for Smart Infrastructure and Construction and Distributed Information and Automation Laboratory developing risk-informed approaches for managing infrastructure systems. He was previously associated with the University of Birmingham as a Research Fellow in Transport Asset Management where he worked on an EPSRC Impact Acceleration project to develop a decision-support system for the risk-informed asset management of the railway infrastructure. He has also worked on various international research projects aimed at promoting rural road networks as a viable component of the implementation strategies for achieving Sustainable Development Goals and also explored the potential for technological innovations to address urban transportation safety issues. He has experience in designing, developing and embedding decision support systems for road and railway authorities in the UK, India and Africa.
Dr Sasidharan read for PhD in Civil Engineering from the University of Birmingham where he developed a system engineering approach to the whole-life management of railways, by combining engineering and econometric principles for selecting cost-effective maintenance and operational strategies. He is a recipient of the Prestige Award for Young Researchers from the World Transport Research Society. He has consulted for the UK's Department of International Development (DFID), India's Kerala Motor Vehicle Department and Partnership on Sustainable Low Carbon Transport (SLoCaT) on various aspects of transportation namely electric mobility, sustainable transport infrastructure, impact evaluation of transport infrastructure and service and road safety. Dr Sasidharan is a member of Permanent Way Institute and Chartered Institution of Highways and Transportation. He was recently selected as one of the Top 40 Leaders under 40 for furthering the EU-UK-India relationship in science and technology.
Department role and responsibilities
Senior Demonstrator - Engineering Tripos Part IIA, 3E3: Modelling Risk