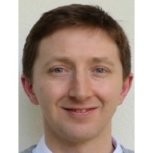 University Senior Lecturer
Academic Division: Manufacturing and Management
Research group: Production Processes
Telephone: +44 1223 7 66065
Email: rd439@eng.cam.ac.uk
---
Research interests
Dr Daly's research group (Fluids in Advanced Manufacturing - FIAM) examines chemical and physical phenomena of polymeric, biological and nanomaterials when exposed to advanced fluid-based manufacturing techniques. The goal is to join emerging technologies with novel routes to incorporation into devices. In a multi-disciplinary and industry-linked agenda, the vital downstream risk factors are also studied to allow rapid integration of research into a functioning industrial value chain.
Key research interests include:
Paper-based, acoustic and nanomaterial biosensors
Scale-up challenges of emerging technologies
Novel applications of inkjet printing
Self-organised nanostructures
Supramolecular gels
Additive Manufacturing
Strategic themes
Manufacturing, design and materials
Project BiognostiX, a European FP7 funded project to develop technologies and flexible manufacturing methods for the fabrication of bio-diagnostic sensors on fibre-based materials. This work is in collaboration with a UK manufacturing company, industrial partners from Spain, Italy and Switzerland and a technical research centre in Finland.
Teaching activity
University Lecturer in the Science and Technology of Manufacturing
Other positions
Member of the Research Capability Programme team at IfM
Transferable Skills Champion at IfM
Coordinator of the Student-led Projects and Industry Partnership (SPIP), Department of Engineering
Biography
Ronan is a University Lecturer in the Science and Technology of Manufacturing based at the Institute for Manufacturing, Department of Engineering. He leads the research on Fluids in Advanced Manufacturing and is also part of the Inkjet Research Centre.
Ronan joined the Institute for Manufacturing in 2011. Prior to this, he completed his MEng (Chemical Engineering with European Studies) at the University of Edinburgh. He then joined Unilever R&D, where his final role was Process Technology Manager, leading the scale up work for a range of deodorant/antiperspirant innovations from lab to pilot and factory scale.
He moved to The School of Chemistry and the Centre for Research on Adaptive Nanostructures and Nanodevices (CRANN

) in Trinity College Dublin (2006-2011) where his research and PhD topic in the Boland Research Group

included a self-organisation technique to make highly ordered porous polymer materials for drug delivery applications. While in the ASIN lab

and the Nanobio-Nanomechanics Lab

he worked on developing scalable graphene-based biosensors. In addition, he collaborated with the Supramolecular & Medicinal Chemistry Research Group

looking at supramolecular gels for biological applications.
Academic/Research interests
His current role is focused on fluids and soft matter research, combining research into novel materials and devices with exploration of their manufacturing challenges, to drive effective scale-up of emerging technologies. Details can be found on the group website and also in the third edition of the IfM Review.