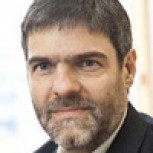 Director of Research
Academic Division: Manufacturing and Management
Research group: Strategy and Policy
Telephone: +44 1223 7 65824
Email: rp108@eng.cam.ac.uk
---
Research interests
Dr Phaal's research addresses strategic technology and innovation management challenges in companies and other organisations. Frameworks, processes and methods for integrating technological and commercial considerations are explored. The development and application of management tools and toolkits to support decision-making in technology intensive sectors is of particular interest.
The strategic technology roadmapping approach has been a focus since 1998, as a method for aligning technology and commercial strategy. Efficient multifunctional workshop methods have been developed and applied in a diverse range of sectors and situations. The holistic nature of the roadmapping framework provides a platform for integrating management processes and tools.
A generalised strategy framework has been developed that can be customised for a wide range of contexts. Applications have ranged from innovation to business and corporate strategy, to research prioritisation and coordination within and across industrial sectors, and from mature industries to new technology ventures.
Related areas of interest include the emergence of technology-based industries, technology intelligence, acquisition, marketing, evaluation and systems integration, together with the role of visualisation in supporting communication of innovation and technology strategy.
Strategic themes
Energy, transport and urban infrastructure
Strategic technology management toolkits have been applied in a wide range of sectors, including energy, transport (automotive, aerospace, rail and marine), and the built environment.
Manufacturing, design and materials
Research is highly collaborative, working with industrial partners to develop and test methods. Roadmapping approaches are used to support industry-academic partnerships, consortia building and research networks.
Complex, resilient and intelligent systems
Roadmapping and portfolio methods support decision-making under conditions of uncertainty, particularly for early stage technology investments.
Teaching activity
Dissemination of approaches is enabled through teaching and executive education, customised for in-company delivery.
Biography
Previously Dr Phaal worked at The Welding Institute, involved in technical consulting, contract research and software development. He has a mechanical engineering background, with post-graduate degrees in applied and computational mechanics.