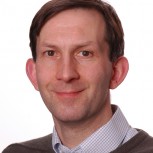 Head of Department
Academic Division: Information Engineering
Research group: Machine Intelligence
Telephone: +44 1223 3 32771
Email: rwp@eng.cam.ac.uk
---
Research interests
Richard Prager is the Head of Cambridge University Engineering Department.  His research focuses on the development of better non-invasive diagnostic medical imaging systems based on ultrasound.
He founded the Medical Imaging Group in Cambridge Engineering Department in 1992.  Significant projects have included new fast and accurate calibration systems for tracked 3D ultrasound, the development of a high definition tracked 3D ultrasound system, innovative work on image-based freehand 3D ultrasound without an external tracking device, real-time 3D ultrasound deconvolution for image enhancement and three-dimensional elastography.  He also led a project to develop a hybrid scanner that combines the benefits of both tracked and mechanically-swept 3D ultrasound.
He is currently working with Dr Nghia Nguyen on novel algorithms for high-resolution ultrasonic beam-forming.  This has resulted in "Coherent Pixel-based Beamforming" that produces images that are in-focus at all depths from a single ultrasound transmit-receive sequence.  His most recent work has been on adaptive beamforming using minimum-variance algorithms and plane-wave compounding.
Free software: download Stradx or Stradwin
Google Scholar publications and h-index.

orcid.org/0000-0002-7364-6561
Strategic themes
Bioengineering
Development and calibration of medical ultrasonic imaging systems.  Ultrasonic beamforming, in particular pixel-based beamforming and adaptive beamforming.
Teaching activity
Prof Prager is the editor of the http://i-want-to-study-engineering.org website that is designed to make high quality preparatory material available to all school pupils facing competitive admissions interviews for university engineering courses.  The site contains over 200 technical problems in mathematics, mechanics and electricity with video explanations to help people who get stuck.  The goal is to develop problem-solving skills through practice with a wide range of multi-stage technical challenges.
In the past he has delivered part of the first year engineering maths course covering convolution, Fourier series, and probability. He has also lectured the first year digital circuits course, including combinational and sequential logic. He currently teaches a course on medical image acquisition for third-year students.
Other positions
From January 2014 to November 2018: Head of Cambridge University School of Technology (comprising Chemical Engineering & Biotechnology, the Computer Laboratory, the Engineering Department, the Judge Business School and the Cambridge Programme for Sustainable Leadership).
Fellow of the Royal Academy of Engineering (from September 2017), Fellow of the Institution of Engineering and Technology, Fellow of Queens' College Cambridge.
Member of the EPSRC Healthcare Strategic Advisory Team (October 2008- March 2015)
From 2006 to 2012 he was Deputy Head of Cambridge University Engineering Department with responsibility for the Undergraduate Engineering Course.  This represents about 10% of the Undergraduate teaching at the University of Cambridge.