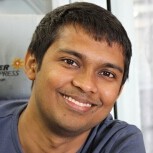 Reader in Nanomaterials Engineering
Academic Division: Electrical Engineering
Telephone: +44 1223 7 48362
Email: th270@eng.cam.ac.uk
---
Research interests
Dr Hasan's research interest in Cambridge Graphene Centre lies in scalable production of functional nanomaterials and their inks for flexible and printable electronic, optoelectronic and energy devices.  One area of his research focuses on solution processability of layered nanomaterials such as graphene and molybdenum disulphide. The key element has been exfoliation of single layers from their bulk crystals and their subsequent solution processability and enrichment techniques.
The second research area involves using nanomaterials as templates for other materials, making optical quality nanomaterial composites and devising ways of printing, coating and patterning nano-inks on flexible and rigid substrates. The key elements have been controlling the ink properties, deposition conditions and substrate properties for inkjet printing, web- and spray-coating or similar scalable printing and deposition methods. These techniques are being investigated for optoelectronic and energy devices.
Dr Hasan's research aims scalable fabrication such that they can be readily adopted by the industry. The composites and coatings are targeted for state of the art engineering applications. These include ultrafast lasers and flexible optoelectronic devices such as electrically switchable polymer-liquid crystal based optical shutters and an electrotactile feedback touch surface. The graphene ink realized the first inkjet printed graphene electronics and recently, through industrial collaboration, an electroluminescent display. Another area of active interest is combining nanomaterials with traditional electronics, already resulting in a transparent piano and more recently, a wireless touchpad through industrial collaborations.
Research projects
2013: "Graphene based natural dye sensitized solar cells" Cambridge-Africa Alborada Research Fund.
2012: "2dinks: Inkjet printed two-dimensional materials for flexible electronics" CIKC small grant.
2012: "Graphenex: Graphene-based electronic devices by 3D micro-extrusion printing" CIKC small grant.
2012-2015: MEM4WIN-"Ultrathin glass membranes for advanced, adjustable and affordable quadruple glazing windows for zero-energy buildings" FP7 grant.
2012: "Graphene based flexible transparent conductors and their application in electrically switchable smart windows": National Natural Science Foundation of China.
2011-2016: "Graphlex: Fully flexible graphene-based transparent conductors" The Royal Academy of Engineering, United Kingdom.
Research opportunities
PhD Positions
Dr Hasan is accepting full-time or visiting PhD students with Physics, Chemistry, Materials Science and Electronics background to work in the broad field of nanotubes, graphene and other layered materials. Prospective candidates are invited to contact him directly with their CV and publications list.
Postdoctoral Positions
Please contact Dr Hasan if you are interested in applying for various local and international fellowships.
Other positions
Director and co-founder: Cambridge Graphene Platform Ltd.