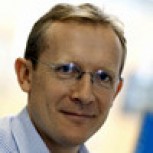 Head of Division E
Academic Division: Manufacturing and Management (Head of Division)
Research group: Strategy and Policy
Telephone: +44 1223 7 64305
Email: thwm100@eng.cam.ac.uk
---
Research interests
Dr Minshall's research interests include:
Strategic themes
Manufacturing, design and materials
Co-leading the Theme.  Analysis of links between corporate open innovation strategies and engagement with universities; the role of university-industry collaborations in the emergence of new industries based on new technologies.
Research projects
EPSRC/ESRC "Bit-by-Bit – Capturing the value from the digital fabrication 'revolution'"
Teaching activity
IA Engineer in Society
IB Taking Technology to Market
MET IIA 3P7
MET IIB TIM
IIB 4E4 (Management of Technology)
ISMM TIM
MoTI
Executive education programmes
Research opportunities
Topics related to open innovation, technology investment and incubation, university-industry collaborations, engineering education.
Other positions
Member of the Board of St John's Innovation Centre, a Visiting Research Fellow at the Institute of Technology, Enterprise and Competitiveness (ITEC) at Doshisha University, and a member of the IET's Innovation and Emerging Technologies Policy Panel.  He is a member of advisory / steering committees for groups including ideaSpace Enterprise Accelerator, Cambridge University Entrepreneurs, Cambridge i-Teams, Colworth Science Park and 100% Open.
Biography
Before joining the University, he was a Project Manager and Board Member at St John's Innovation Centre Ltd where he worked on a series of projects to support industry / academic collaboration focused around new technology ventures.
Prior to working at St John's Innovation Centre, he worked as a teacher, consultant, plant engineer and freelance writer in the UK, Australia and Japan.  He has B.Eng. from Aston University and a PhD from Cambridge University Engineering Department.