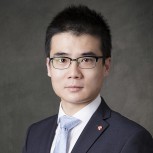 University Lecturer in Power Electronics
Academic Division: Electrical Engineering
Research group: Electrical Power and Energy Conversion
Telephone: +44 1223 7 48316
Email: tl322@eng.cam.ac.uk
---
Research interests
Power Electronics, Power Conversion Systems, More Electric Vehicles (cars, trains, ships, aircraft), Electrical Energy Storage, Renewable Energy, Smart Grids
Research Grants: 
2018-2020 UK Engineering and Physical Science Research Council (EPSRC): New Investigator Award, 'Enhancement of Inductive Power Transfer (IPT) for Wireless EV Charging'(EP/R036799/1), Principal Investigator, £261,765
2018-2020 Innovate UK: Innovation in Vehicle-to-Grid (V2G) Systems R&D Grants, 'Universal modular Vehicleto-Grid bi-directional on-board charger with SiC technologies'(RG93591), Principal Investigator (Academic), £264,716
2018-2020 Industrial sponsorship from the SAIC Motor UK Technical Centre Ltd, 'Next generation SiC based integrated inverter/charger for 800V EVs'(RG96662), Principal Investigator, £294,620
2018-2019 Industrial sponsorship from the Wuxi Silent Electric System Technology Ltd, 'Supercapacitor based energy storage in electric systems for ships' (RG95400), Principal Investigator, £55,579
2017-2018 EPSRC Global Challenges Research Fund (GCRF) Internal Grant, 'A low cost high performance solar inverter'(RG92550), Principal Investigator, £26,370
2017-2018 Issca Newton Trust, 'Intelligent Transformers for Future Internet of Energy' (RG74916), Principal Investigator, £25,000
Strategic themes
Energy, transport and urban infrastructure
Other positions
Fellow of Peterhouse
Chartered Engineer (CEng) registered with Engineering Council U.K.
Biography
PhD, University of Cambridge, 2013
BEng (1st Hon), University of Birmingham, 2009
BEng, Huazhong University of Science and Technology, 2009
Dr Teng Long has been appointed Lecturer at the University of Cambridge in 2016. Prior to joining Cambridge, he has worked for General Electric (GE) where he has led or played an important role in many rewarding projects such as the first transformer-less all electric oil-platform supply vessel, the first large scale all electric warship (Type 45 Destroyer), the first electromagnetic aircraft catapult demonstrator, and the first large scale diesel/electric hybrid vessel (Tide-class tanker). 
Department role and responsibilities