Children and teenagers from across East Anglia descended upon the Department of Engineering for the regional final of a global robotics-based life skills competition.
The young people have to come up with a solution to a real-world problem and that's what engineering is all about; it's not just about science and inventing for the sake of it, it's taking that and making it useful for humanity.

Alumnus Andrew Smyth
Billed as the ultimate science and technology challenge, FIRST® LEGO® League challenged the pupils to design, build and programme a robot to autonomously compete in missions.
The regional final attracted ninety 9 to 16-year-olds who had spent weeks preparing for the contest. They were also asked to create an innovative solution to a real-world problem, and the theme of this year's challenge was hydrodynamics, designed to encourage the pupils to think about how we find, transport, use, or dispose of water.
The event was compered by alumnus Andrew Smyth, aerospace engineer at Rolls-Royce and Great British Bake Off finalist 2016.
Teams had two-and-a-half minutes to complete missions on the competition field in order to score points. They also had to make a five-minute pitch to the judges who quizzed them about their robot designs and innovative solution based on the hydrodynamics theme.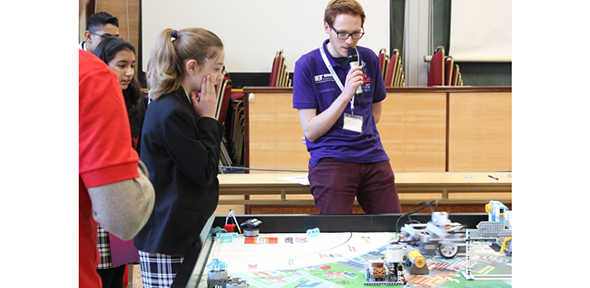 Colchester Royal Grammar School's Team Aquarius were crowned the overall champions after impressing the judges with their amazing robot design and project idea for recycling rainwater to minimise waste. They will go through to compete against 46 other regions in the UK and Ireland final in Bristol in February.
Team BingBangBong from Fulbourn Primary School won the Judges Award, and 'Pizza, the Cambridge Robot' from Cambridge Home Educating Families was awarded best robot performance. Awards were also given to teams from Bedford Modern School and Ipswich School for developing the most creative project and robot design, respectively.
The regional final was managed by Form the Future and sponsored by Qualcomm. The Institution of Engineering and Technology (IET) is the operational partner for the competition in the UK and Ireland.
Mandy Workman, IET Education Manager – FIRST® LEGO® League, said: "The young people learn so many different skills like problem solving, critical thinking, presentation skills, team work, and conflict resolution. This is a life skills robotics-based competition that prepares young people for work in the 21st century workplace and we hope that sitting amongst all these teams are our future engineers and innovators."
Andrew Smyth added: "Events like FIRST® LEGO® League are really important. It sets the context of what an engineer does. The young people have to come up with a solution to a real-world problem and that's what engineering is all about; it's not just about science and inventing for the sake of it, it's taking that and making it useful for humanity."