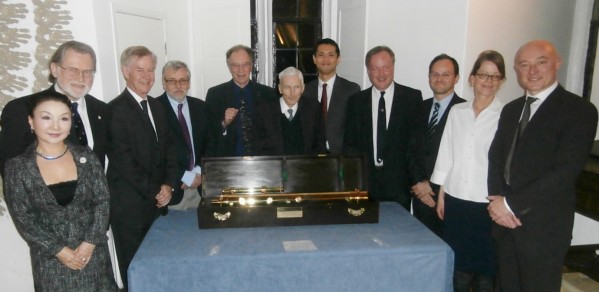 A custom-made British telescope is a gift to the Japanese nation in place of the lost telescope sent by King James I as a rare gift to the Shogunate of Japan exactly 400 years ago.
The telescope, tripod and presentation case was presented to the people of Japan by Japan400 on 8th September 2013 to commemorate the gift of a telescope from King James to Tokugawa Ieyasu on 8th September 1613, marking the 400th Anniversary of Japan-British Relations in trade, diplomacy, science and culture. 
A send-off and mini-conference entitled: 'From King James's Telescope to the Present and Future' was held at Jesus College, Cambridge on 17 January 2014, in view of the fact that the King's telescope can be considered a scientific instrument, and so marks the beginning of Japan-British exchange in that field. There were speeches from Lord Rees (Astronomer-Royal), the Department's Professor Roberto Cipolla and case studies by Dr Fumiya Iida (ETH, Zurich), David Cope (Clare Hall) and Professor Paul Alexander (Jesus College).
In June 1613 the East India Company ship, The Clove, had been sent by King James with presents for the ruler of Japan, including the first telescope ever sent outside Europe. The ship commanded by John Saris, arrived at Hirado, as the first British ship to reach Japan. Saris was introduced to Tokugawa Ieyasu and presented with various gifts, the principal one being the large silver gilt telescope.
Telescopes had only just been invented, and this is the first known to have been dispatched from Europe to Asia. That the Japanese were amazed by such technology is demonstrated by many later shoguns asking for European telescopes. Sadly, the original has been lost, and so a hand-made brass British telescope was commissioned as a replacement, to be an enduring symbol of the beginning of Britain's valuable partnership with Japan in science and technology.
In due course the telescope will be offered for display at the British Embassy in Tokyo and a number of locations around Japan with strong British historical connections, before going on permanent display at a final destination in Japan, to be announced.