Our Newsletter is produced twice annually and is sent out to more than 18,500 alumni around the globe. If you have any comments or would like to suggest an article for a future issue, please let us know.
You can view the most recent issue of the newsletter (and all back issues) via Issuu or download them as PDF files.
If you are an alumnus/a and would like to change the way you receive your copy of the newsletter, please let us know by updating your profile with the Cambridge University Development Office (CUDAR).
Our latest issue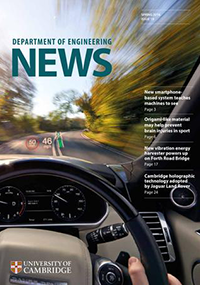 Issue 19, Spring 2016
New smartphone-based system teaches machines to see
Origami-like material may help prevent brain injuries in sport
New vibration energy harvester powers up on Forth Road Bridge
Cambridge holographic technology adopted by Jaguar Land Rover
Previous issues
All of our back issues can be viewed online via Issuu by clicking your preferred issue below or alternatively, please feel free to download a PDF copy by clicking your preferred link at the base of the page.