Our Newsletter is produced twice annually and is sent out to more than 18,000 alumni around the globe. If you have any comments or would like to write an article for a future issue, please let us know.
If you would like to view any of the issues below online via Issuu (a popular PDF viewer), please click here. Links are provided at the base of this page to download a PDF version of each issue if you prefer.
If you are an alumnus/a, and would like to receive a hard copy of our Newsletter in future, have not yet received your copy and/or would prefer to receive your copy digitally only in future, please let us know by updating your profile with the Cambridge University Development Office (CUDAR).
Our latest issue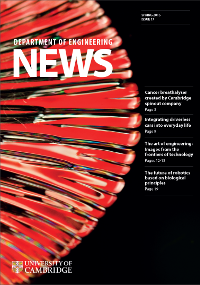 Issue 17, Spring 2015
Cancer breathalyser created by Cambridge spinout company
Integrating driverless cars into everyday life
The future of robotics based on biological principles
Previous issues
All of our back issues can be viewed online via Issuu by clicking your preferred issue below or alternatively, please feel free to download a PDF copy by clicking your preferred link at the base of the page.