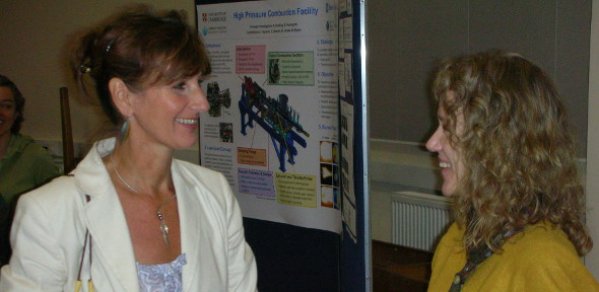 On a beautiful Sunday morning in September it was fabulous to see over 100 alumni turn up to our showcase of research on the theme of "Cities of the Future".
Age was certainly no barrier to enthusiasm, as many of our older alumni crowded round the poster displays, engaged in lively conversation with our PhD students and staff alike, always with an opinion or two! Professor Roberto Cipolla and Dr Bjorn Stenger drew a constant crowd to see their experimental TV where the visitors were able to interact with the display system simply by gesturing with their hand while others were intrigued by Cambridge University Eco Racing (CUER) team's amazing solar powered car parked in the courtyard. From Tsunami resistant housing to aero-engine combustion research there was something to educate and interest everyone and to make sure everyone behaved themselves, a rather cheeky Dalek, courtesy of Adam Strawson, was on patrol. This year's Sunday showcase turned out to be the most popular yet.
Many thanks to Jane Hunter for organising the event and to all those who participated.