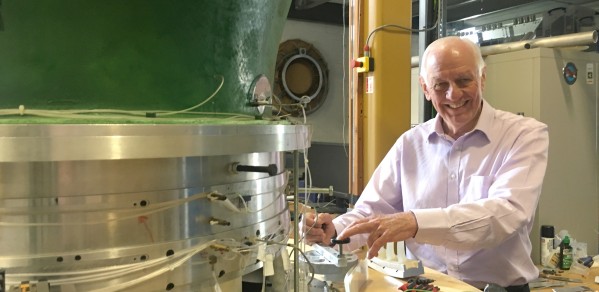 Dr Ivor Day (FREng) has worked for 11 years in Industry and a further 36 in research. He has helped develop a new low emissions combustion system for Rolls-Royce Industrial gas turbines and is now working on by-pass duct aerodynamics. He is a Fellow of the Royal Academy of Engineering, has received the George Stephenson Prize, the Henry Royce Best Patent Award and, on six unprecedented occasions, the ASME Gas Turbine Award.
The Lab has always had an excellent crew of technicians and an enviable ratio of technicians to students. This means that the standard of experimental research at the Whittle Lab is second to none.

Dr Ivor Day
Ivor talks about his time at the Department's Whittle Laboratory.
My youth was spent outdoors riding a bicycle and playing with gunpowder.  Later I went to university in Durban and was given a scholarship to study ship building in England.  I managed to persuade the trustees of the scholarship that studying jet engines was more important than ship building.  This is how I ended up in the Whittle laboratory for the first time.  After completing my PhD, I returned to South Africa to work in the power generation business.
My second sojourn in the Whittle Lab started eleven years later when I was offered the chance to work on the active control of stall and surge in jet engines.  The intention was that I would spend three years at the Lab and then return to my former job.  The "return" never happened; I am still working at the Whittle Lab 32 years later.
My time at the Whittle Lab has mostly been taken up with experiments. Doing experiments is always exciting - except when the sponsor sends someone to stand over you with a Gantt chart!  Some experiments are exciting because they are physically dangerous and get your adrenalin going – these experiments are of the 'stand back and hope nothing goes wrong' type – like starting up a new compressor for the first time.  Other experiments are of the high expectations type where, after months of preparation, you switch on the test rig and in the space of a few minutes you know if your long-cherished theory is right or wrong.  Useful, though often less exciting, are experiments where detailed measurements are required to verify computational predictions.  Even with this type of experiment, there is always a chance that the measurements will lead to a "eureka moment" and something that has been a mystery for years will now have a logical explanation.
When I started in the Whittle Lab it had only been in existence for three years and was still settling down.  There were about a dozen students, a handful of staff members and lots of empty laboratory space.   Forty-five years later we have fifty to sixty students, ten staff members and virtually no free space.   The Lab has always had an excellent crew of technicians and an enviable ratio of technicians to students. This means that the standard of experimental research at the Whittle Lab is second to none.   From a social point of view, the Lab has always been a very friendly place with the experienced students helping the newcomers and with staff doors open at all times.  In addition, there is the famous Whittle Lab tea table around which all gather for morning and afternoon tea – birthday cakes often add to the atmosphere. 
Another thing that makes the Whittle Laboratory such a special place is the type of work we do.  Most of our research is sponsored by industry with the projects directly linked to real problems - like low efficiency and environmental impact.  From my own perspective, all my experimental work has been supported by Rolls-Royce which means that I have worked on some interesting, and sometimes crucial projects. I started out looking at the aerodynamic stability of aero-engine compressors (i.e. stall and surge) and then set about applying the new science of active control to these instabilities. This was an exciting time with big lab experiments and tests on real engines.  After this came an unexpected project associated with unsteady combustion in power generating turbo-engines.  In these engines, vibrations driven by the combustion process were often so severe that the engines had to be restricted to part-load operation. The result was financial penalties.  A hectic project ensued which fortunately ended with a working solution and a patent for a new fuel/air mixing device.
In recent years, I have worked on the effects of heavy rain on aviation engines and have studied ways of getting rid of water once it has entered the engine core.  In an ongoing study we are also looking at ways of reducing the adverse effects of sand and volcanic ash.  More recently I have been involved in a project aimed at reducing traffic emissions in urban areas by using battery driven air-taxis. These machines will need ultra high lift propellers and this has been the focus of my work for the past 12 months.
All in all, I have thoroughly enjoyed my time as at the Whittle Laboratory and would encourage young students to consider PhD projects in aerodynamics - especially those where experiments and computational work go hand in hand.  The idea that experiments will eventually be replaced by numerical simulations is far from correct – there are always unexpected problems to be investigated and these will keep experimental research going for many for years to come.
My mother – The reason I became an engineer.
There really is too much to say about my mother, so I will limit myself to a list of the simple things she passed on to me – all without ever realising what effect they would have on my career.  From her I learned, at the age of seven, how to fit a thirteen amp plug. Shortly after I learned a healthy respect for electricity through being left alone to fit the next plug myself.  She taught me how to use her sewing machine, she let me use her knitting machine, she taught me carpentry, she even let me take the motor out of the washing machine to make an electric go-cart. The inner workings of the cuckoo clock were another source of enlightenment. She taught me to cook, she taught me about the speed of sound, about the latent heat of steam, about the extra high temperature of sugary jam, about yeast and fermentation, about gravity, and even about basic chemistry – vinegar and bicarb make an explosion in a bottle.  She also knew the formula for gunpowder.   There was gardening too, though from my early efforts she would never have foreseen that I would become a keen allotment owner.  Her favourite topic was, however, the stars and the beauty of the night sky.
Naturally, the specific things my mother taught me were not important, what mattered was her keen interest in "how" and "why" and "what makes it tick?"  This subconscious interest of hers in all things logical and practical was somehow passed on to me. It is her I have to thank for all the happy years I have spent in a job where I have done little more than tinker and play all day.
Ivor Day