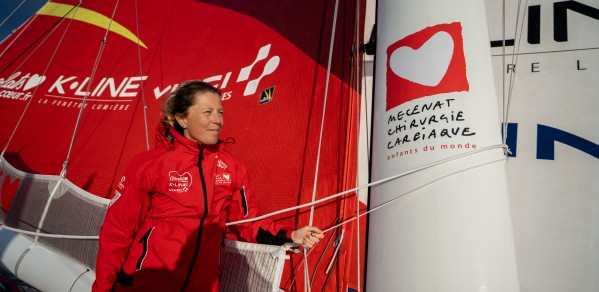 Alumna Sam Davies is a talented and highly experienced skipper. She began her career in competitive sailing at the age of 24 with her 1st crewed round the world trip - the Jules Verne Trophy - in 1998.
During each major sailing race (Vendée Globe, Route du Rhum, Transat Jacques Vabre) I post regularly on my social media channels knowing that for every new follower, and for every share, or comment, many sponsors, donate one euro, to the Mécénat Chirurgie Cardiaque charity.

Alumna Sam Davies yachtswoman
Sam came into the limelight with her 2008-2009 world circumnavigation in the Vendée Globe race, a non-stop, single handed around the world race, where she placed fourth. She is very proud of her contribution to the Initiatives-Cœur team that enables her to sail the oceans to support Mécénat Chirurgie Cardiaque, a charity which enables children with severe heart defects to be operated on in France when it is not possible to get their vital life saving surgery in their own country for technical or financial reasons.
We sat down with Sam and she told us about her sailing career. 
I was lucky to grow up on the south coast of England with sailing parents and our weekends and our holidays were often spent cruising around the Solent the strait between the Isle of Wight and Great Britain.
When I was a kid, there was the Whitbread Round the World Race so I would see hundreds of high tech international boats including some boats setting off to sail around the world.
I started to wonder if there were jobs in the sailing world. I never even imagined myself racing boats because when I was a kid, it wasn't really a career, people took a sabbatical to go and race around the world.
You could be a yacht designer, or a structural engineer, composite engineer or sail designer, and I love numbers and maths and science and hated writing. So for me, as a young teenager thinking about careers and the future these options seemed possible and I decided I wanted to go and study yacht design. 
There were a few universities that offered yacht design as a course. But my dad had been to Cambridge University, to study Engineering.  He knew I loved maths and science, and that I wanted to be a designer, he said you've got to go to Cambridge, and do engineering, it will open up more options. 
I applied to Southampton University that offered a yacht design course and I also applied to Cambridge to study engineering. Much to my surprise I got a place at Cambridge so I had to do engineering! In retrospect, this turned out to be a really, really good decision. Now I use that engineering degree every day of my life. 
When I got a place at St John's College, Cambridge, I decided to take a gap year. I wrote to quite a few young yacht designers and one young designer, Rob Humphries, offered me work experience, an internship for nine months.
My work with Rob introduced me to the sailing network and the racing network and through all the introductions I got quite a lot of opportunities to sail. When I went to Cambridge I was already doing some racing on the south coast on weekends so I continued with this. I used to go backwards and forwards between Cambridge and the south coast to join the crews that I was racing with. I even remember, a few times, leaving on Thursday and coming back on Tuesday, oh, my goodness it was hectic.
I remember doing a tryout on a boat around Easter, it was a trial for a crewed race around the world. It was towards the end of my degree, and it was just an amazing opportunity to even get to tryout, I never imagined I'd get offered a place on the boat.
I had a couple of tryouts like that on some all female crewed sailing. Mostly it was during holiday time. So I didn't miss any studies.
During my final year at Cambridge Tracy Edwards, a very famous British skipper, and one of my heroes when I was younger, invited me to do some trial sailing with her crew. 
I was the university boat club captain at the time, the last commitment that I had was the boat club end of year dinner and and so I gave Tracy that date.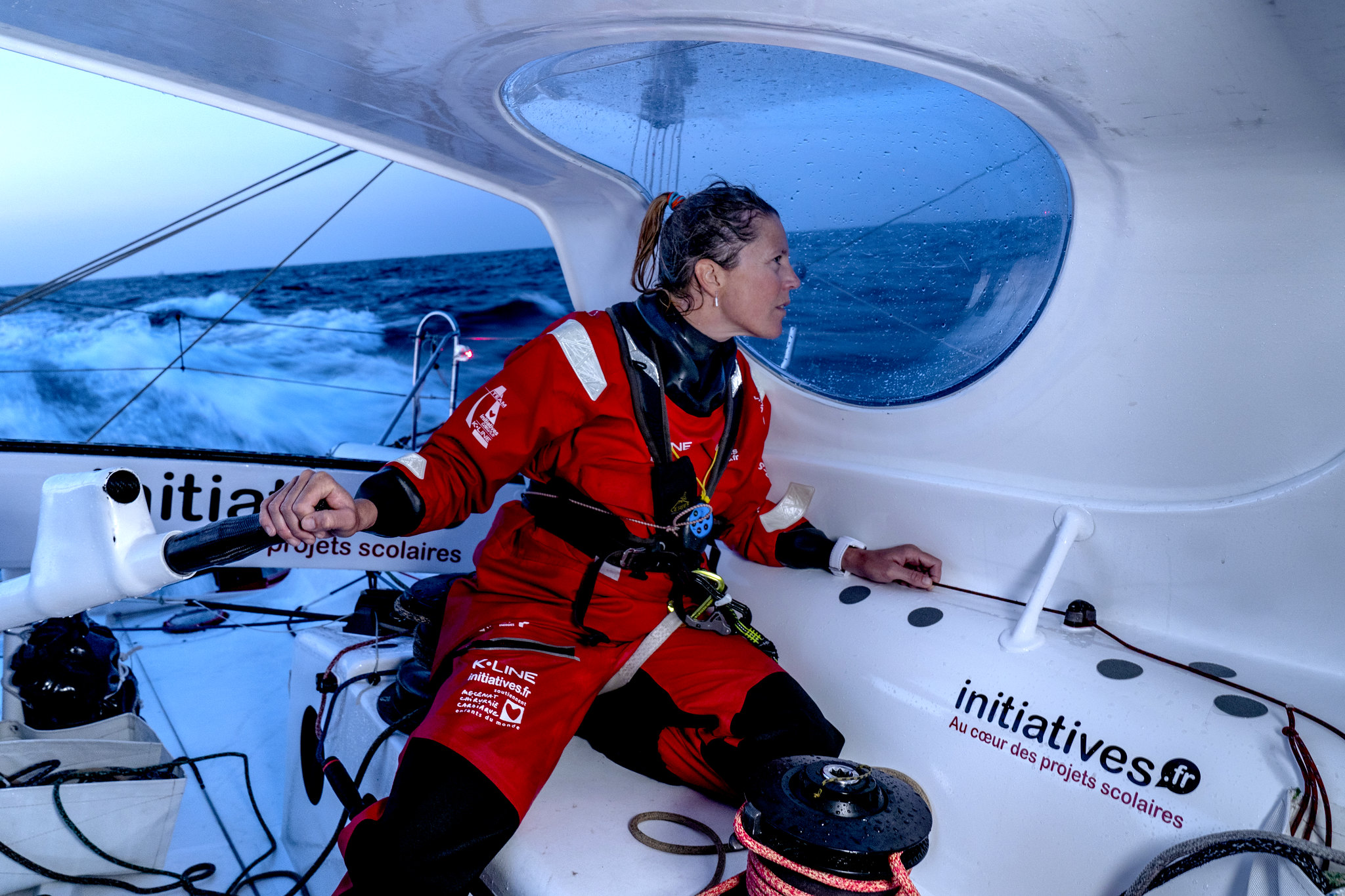 Tracy called me and said, "Sam, can you come to New York in three days to do a Transatlantic record attempt - one of the crew members I was counting on hasn't worked out and I need to find a replacement really quickly." I packed everything in my car and I barely said goodbyes to my friends because I was in such a rush. I drove home, left everything at home and jumped on a plane to join the boat. And that was my first job in inverted commas as a professional sailor. To my parents dismay I missed graduation, that was the only thing that gives me a slight twinge of sadness.
It was something that I never even believed could happen. I thought it's just a tryout and I don't have enough experience to be selected. But that transatlantic trip got me the job. Tracy selected me to become part of the crew for the round the world record attempt in 1998.
As soon as I left university I went straight into top level professional sailing, it was an amazing opportunity. I didn't have much experience. But I had an engineering degree, which I knew would be useful at sea. I wasn't afraid to take things apart and I understood how teams work from all the team sport I'd done. I slotted in as a crew member, happy to be there and got along with everybody.
There were three of us in the crew who were 22, we were the young ones. Really young to have such an opportunity.
That trip really opened doors for me. Sadly, we didn't break the world record. We broke our masts between New Zealand and Cape Horn. We didn't manage to finish but I learned so much. We learned so much as a crew and it definitely launched me into a career that I never even knew was possible. I met a lot of people through that, and many of the crew are some of my best friends. 
So that was the first round the world trip. Followed by three Vendee Globe races and I skippered an all female crew in the 2014-2015 Volvo Ocean Race. So that's five attempts at sailing around the world of which I've finished three which I am very proud of.
Can you tell us about the hardest situation you have been in at sea?
I think one of the hardest situations that I have had is probably the most recent during the last Vendee Globe, in 2020, on the initiatives-Coeur sailboat, a 60-foot monohull (18.28 meters).  
In the Southern Ocean, just past Cape of Good Hope. I had a collision with an unknown underwater object. My boat was going at about 20 knots, which is about 54 miles an hour and stopped dead in the collision. I broke my ribs but that's a small part of the the damage. The structure around the keel of my boat was broken. The keel is what keeps a boat upright. Luckily the keel didn't fall out of the boat because it could have and if that had happened, I might have ended upside down and having to be rescued. 
The structure keeping the boat solid was cracked and I couldn't continue. Luckily, I have an amazing team, including some great engineers. The Vendee Globe is a non-stop race, if you have to stop, you have to abandon the race because you're not allowed any outside assistance. The damage was significant and I couldn't repair it on my own, even though I had the materials and the skills, my concern was that there might have been further issues with the structure.
So I had to stop in Cape Town, and my team came to help me. We had to lift the boat out of the water and fix all the damage and test the whole boat to check there was no other collateral damage from the collision. Then I went back out and I continued the race, but outside of the official rankings to be able to finish my second around the globe navigation. 
You play down the fact you broke your ribs, but that's extremely painful. So presumably, you were having to do all of this in great pain?
Breaking my ribs was really painful. And it was pretty scary as well, because I knew that I could have broken other stuff and breaking my ribs was actually quite insignificant, really. I could have done myself a lot more damage. So the hardest part was not really the pain, it was more the fear. When you have an accident like that, you have flashbacks. It was difficult going back out there in the same boat in the same conditions, imagining that it might happen again, so soon after the crash. I think it's about 50% of the sailors who start the race, don't make it to the finish. I finished fourth in 2008/9, and I dismasted in 2012, and didn't finish. But I knew that the sooner I did it, the easier it was to get over.
Because I was no longer racing I didn't have the pressure of sailing fast all the time so I could look after my ribs but that's when my engineering brain was maybe not quite so helpful because no matter how well you check things, there can always be issues, or hidden issues. We had some really good surveyors, and they did a thorough job. And I'd seen my team rebuild my boat, which gave me a lot of confidence. But obviously, I was still on edge, worried about the structural integrity of the boat all the time.
I was determined to get back out in part because I knew it would mean a lot to Mécénat Chirurgie Cardiaque the charity I support. I knew that although the race was over I could still do something that could save a lot of lives. During each major sailing race (Vendée Globe, Route du Rhum, Transat Jacques Vabre) I post regularly on my social media channels knowing that for every new follower, and for every share, or comment, many sponsors, donate one euro, to the charity. It is wonderful to be involved in a sports project that supports a charity. I'm really proud of my sponsors generosity especially as my three main sponsors, Les Chocolats du Cœur, K-LINE, and VINCI Energies have all decided that the Initiatives-Cœur project will carry on. 
I am thrilled we've got an amazing team aiming for the next Vendee Globe in 2024, with a fantastic new boat, which is just touching the water as we speak (August 2022). It is a big engineering challenge finishing the build of a new boat. I'm just happy to be able to understand most of what they're talking about! My engineering degree has been so useful for me. To have that background and knowledge and not be afraid of finding solutions when you think that something isn't possible. 
The engineering degree, at Cambridge is unique two years studying the engineering fundamentals so that you can make an informed choice on what to specialise in for the third and fourth years. That gives you so many options for a future career. If you do an engineering degree, then you've got your choice of industry to work in. Companies are desperate for engineers to come and work for them. I think it's an amazing subject to study.
Is it rare for someone to continue to complete the Vendee Globe after they're no longer competing? Are you unique in that?
It is quite unique. But in the history of the race, people have done it. That's what inspired me to have that idea too.
I know that there are things that are beyond your control, bad things can happen. As a team we discussed what to do and and I did not want to just go home with my tail between my legs and give up. I wanted to try at all costs to do what a few people have done before in the history of the race and finish a circumnavigation, which is pretty amazing feat to achieve regardless of the race.
With broken ribs, post traumatic stress and flashbacks of the accident this must have been particularly difficult.
Recently, not so many people have chosen to finish the circumnavigation once they are out of the race. In Cape Town, I think there were four of us who had to abandon the race and of those I was the only one to carry on.
If I've inspired future people to do the same that would be great. It's great for all the people that invest so much into a project like this. To be able to do everything we can to achieve, accept that we can change our goalposts a little bit and still do something incredible.
Mécénat Chirurgie Cardiaque, is a French charity which enables children with severe heart defects to be operated on in France when it is impossible to get their vital life saving surgery in their own country for technical or financial reasons. Hosted by volunteer families in France, more than 3,000 children have already had surgery since the creation of the association in 1996 by Professor Francine Leca (France's first female heart surgeon) and Patrice Roynette.
Sam's boat is the Initiatives-Cœur. The partners of the Initiatives-Cœur project finance the sailboat and provide the operating budget for the sailing team and they contribute financially to the Mécénat Chirurgie Cardiaque charity . Since Sam's adventures began in 2012, the Initiatives-Cœur project has operated on 342 children (each operation costing around €12,000).