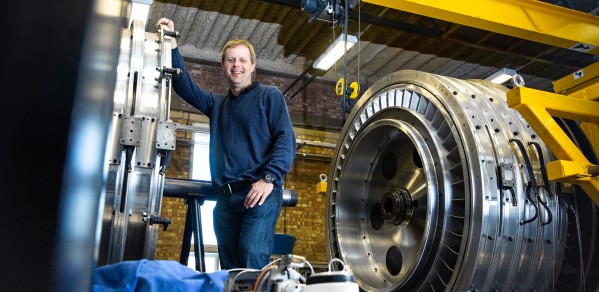 Tony Dickens studied Engineering at Cambridge from 1998 to 2002. He stayed on to do his PhD, then went to work for RedBull Racing, returning to a Senior Research Associate role at the Whittle Laboratory.
The changes we are making to aeroengines is saving a vast amount of fuel so we are making a difference which is very satisfying.

Tony Dickens
How did you get into engineering?
It started a long time ago! I always played a lot of Lego with my dad and I helped around the house building things. At some point I became really interested in aeroplanes. As I was growing up my parents used to take me along to local air shows at the Hatfield Aerodrome (later called Hatfield Airfield) which was home to The de Havilland Aircraft Company, which later became part of Hawker Siddeley and then British Aerospace. I remember we also went to a lot of aeroplane museums. Around that time, 8/9/10 years of age I started watching documentaries on TV about aeroplanes and I think from about the age of 11 I said I wanted to be an aeronautical engineer and I haven't wavered from that since – well at least not yet!
What inspired you into your field?
I don't know if it was because I wanted to be an aeronautical engineer that I found the subjects that I needed easy, or if the subjects I found easy just happened to be the ones I needed to become an aeronautical engineer. Maths and Sciences, I found straightforward the ones I struggled with were the ones where I had to remember stuff. Learning how to do a maths problem I found easy, remembering parts of a cell I found very tedious.
When I came here to the Department of Engineering I found fluid dynamics and thermodynamics the most straightforward modules. The degree course here was great for me as it was very theoretical which ticked my boxes. I think with the exception of the materials module where I had to learn stuff, I could do the course with maths. It was fantastic. I came here for university and I have never left Cambridge.
I loved the fact it is a broad course here. In the first 2 years you cover all the elements of engineering and all that stuff carries on cropping up not just in the second two years but throughout your career. One of the most useful things I have is the set of data books we were given in the first year. I still have them and I still use them.
What do you enjoy most about your time at the Whittle Laboratory?
I did my fourth-year project at the Whittle Lab with Ivor Day which was great fun, I really enjoyed it. You can only achieve a certain pressure ratio from a jet engine, if you push it too far it all falls apart and flames come out the front as do bits of the engine so there is quite a premium in stopping that from happening! That is essentially what Ivor was working on in the Whittle lab at the time, so that is what I did my fourth-year project on.  
Then there was an opportunity to do a PhD with Ivor on highly loaded compressors. Basically how do you make a jet engine smaller and lighter and keep it as efficient. In some ways it was a very good project and it was fun but what we showed was you could make them smaller, lighter and cheaper but there was always a price to pay in terms of efficiency and I think the conclusion we reached was that price was far too high for any engine manufacturer to actually pay. It is one of these subjects that has been chuntering along in the field for 40-50 years and we sort of closed it off and said don't!
After my PhD I decided that I never wanted to do anything with jet engines ever again so I went to work for RedBull Racing doing aerodynamic design of cars. I spent a lot of time in the wind tunnel there which was great fun. I was designing brake ducts that looked suspiciously like wings! I was looking at how to design brake ducts that produce down force and change tyre temperature. This was a great experience that I am not sure I appreciated at the time. I was working in a team environment where everyone had the same goal. I had a great boss and we really sparked off each other and we made a difference to cars going around in a circle.
What aspect of your job gives you the most satisfaction?
Then Rob Miller, Professor of Aerothermal Technology, enticed me back to the Whittle lab to do something a bit different. One of the main reasons I came back to the Whittle lab is because it is such a friendly place to work. There is a great team environment, there is a real community, lots of people pulling in the same direction, lots of support, lots of things going on and you can get involved in different projects all of which are interesting and new.
The other thing about it is that it is very industrially focussed which means that the stuff you are working on is not just going to go in an academic journal it is going to get turned into a bit of an aircraft. The changes we are making to aeroengines is saving a vast amount of fuel so we are making a difference which is very satisfying.
Solving a problem, making something work is engineering.
What do you see as being the next big thing in your field?
The hot topic now is the decarbonisation of aircraft.  Short range aircraft to travel 300 or 400 miles could conceivably end up being all electric or significantly hybrid and electric but there is no real prospect with battery capacity as it is now for taking this to the next level of longer-haul flights or 737, A320 sizes.
There is going to be more and more electrification which brings up lots of interesting questions. Electric engines are smaller so you can move them around, so instead of having 2 big engines it might mean that you have one engine in the fuselage driving a generator, but lots of little electric motors everywhere else. That might give you benefit in terms of fuel efficiency. So, there are a lot of big questions about what the aeroplane of the future will look like. Certainly, for civil aviation as we know it at the moment, relatively long-haul aircraft are still going to be using the gas turbine aircraft engines for many years to come, perhaps with hydrogen or synthetic fuels.
The question is what will the architecture of the aircraft look like? How does more electrification change what the gas turbine engine looks like? That is the big question. We have seen trends to make the engine smaller and smaller but deliver the same power but as you make things smaller typically the losses go up so how do you fight that. We have done some work on how to reduce the losses as parts get smaller as you cannot make parts infinitely thinner unfortunately.
Then there are urban air taxis. People at the Whittle lab are working on urban air taxis what lift systems you want if you are in central London and want to fly to Heathrow what does that look like? Is it a ducted fan? These are potentially quieter more power efficient but they weigh more. There are all sorts of trade-offs with how that looks.
There are lots of start-ups getting in on this market for smaller aircraft it is a really fast changing field. In many ways electric power is simpler than gas turbines, a battery, a power controller, it is motors, whereas gas turbines there is still a lots of art in making a jet engine successful. If you look at the Rolls Royce series every engine has been modified and improved so that you have a history all the way back to the 1970s. If you put them side by side you can see the evolution, you can see that they are part of the same family. Everything is incremental and because they only have 2 engines the requirements for safety certification force you to be incremental and very conservative.
In comparison these new start-ups they can come up with a new concept and most of them will go bankrupt some won't even make it to flight. One or two of them will succeed and that will be what we will see in the next ten years and people will start using them.
Rolls Royce are working on their own, Uber are working on their own. There are a whole load of start-ups coming up with ideas. Airbus have got one. There are loads of companies with a whole different set of problems. It is a big optimisation problem that is very multidisciplinary that will require us to work with the power electronic specialists and wider aviation. How do we integrate these into our cities? Lots of unknowns.
What is your advice for someone considering a career in engineering?
Advice for those considering engineering: Do it! Engineering is the appliance of science to solve problems and there are so many different areas to get involved in. You can make a difference. That is hugely satisfying.