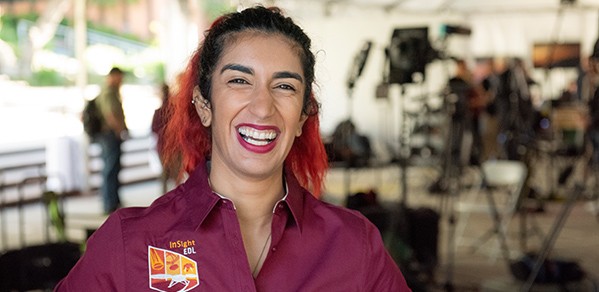 As a child of the nineties, alumna Farah Alibay grew up enjoying outer space films such as 'Apollo 13' and had dreams of one day becoming an astronaut. What captured her interest then – the exploration of other worlds – has since become the focus of her full-time job at NASA's Jet Propulsion Laboratory (JPL), the leading centre for robotic exploration of the solar system.
At the Jet Propulsion Laboratory, I get to travel to other worlds through the eyes (cameras) and ears (microphones) of the robots that we send out there. Sometimes, I still pinch myself!

Farah Alibay
Farah, a systems engineer, shares details of her achievements to date, including one historic moment earlier this year, where she was part of the team that successfully flew a helicopter on Mars – the first powered, controlled flight by an aircraft on another planet. "Everything about that day was extraordinary," she said.
From Cambridge to NASA
It was shortly after Farah completed her Master's degree in Aerospace Engineering from Cambridge, that she got the opportunity to intern at the Goddard Space Flight Center (GSFC) via the NASA Academy. There she helped develop tools for the Goddard Mission Design Laboratory (MDL), a lab set up for the development of space flight designs and architecture concepts. Farah credits the NASA Academy as being the internship experience that enabled her to discover her love for robotic planetary exploration, details of which she shares below.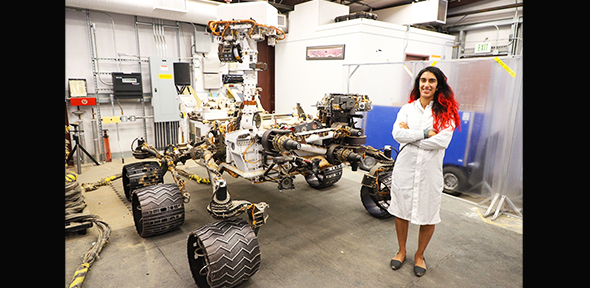 Internships were invaluable to me as a young engineer. They allowed me to explore a range of different industries. I interned at Cobham, an aerospace and defence company, and at Bentley Motors while at Cambridge, and I spent a summer working in biofuel research in the south of India. I continued doing internships during my graduate studies, including one at NASA's GSFC after my Master's and two internships at the NASA JPL during my PhD.
Interning at the JPL felt like finally coming home. I fit right into the culture and atmosphere and knew that it was the place for me from the first day I set foot there. It was during my 2012 internship at the JPL that the Curiosity Rover landed on Mars and truly, that sealed the deal! I knew from then on that I wanted to be a part of the team that would eventually land the next large rover on the surface of Mars.
In my job at the JPL, I travel to other worlds through the eyes (cameras) and ears (microphones) of the robots that we send out there. Sometimes, I still pinch myself! Similar to what you experience when you study at Cambridge, at the JPL you are surrounded by extraordinary people, people who have pushed the boundaries of your field, who have written the textbooks that you have studied and who have paved the way before you. At first, it was quite humbling to be a part of these teams involved in robotic exploration of our solar system, but now I cherish every single moment.
Being a strong technical communicator and writer has become a key strength of mine. My Master's advisor at Cambridge went out of his way to teach me how to perform research and how to communicate those results in a coherent and well-structured manner. I gained some invaluable skills in teamwork, communication and writing. Furthermore, my Master's degree at Cambridge gave me a strong engineering baseline and a deep understanding of the key first principles that form the basis for most engineering disciplines.
Mission to Mars
Over the past seven years that Farah has been working at the JPL, she has been involved in many missions, including Mars Cube One (MarCO) that she worked on and oversaw from idea to delivery. Consisting of a pair of communications-relay CubeSats – a class of miniature spacecraft – MarCO travelled to Mars to perform Entry, Descent and Landing (EDL) telecommunications relay for the InSight mission in 2018. InSight is the first outer space robotic explorer to study in-depth the interior structure of Mars: its crust, mantle and core. MarCO was successful in helping the InSight lander communicate with Earth in real time.
While InSight went on to be Farah's first Mars landing, she also gained experience in human exploration through the Asteroid Robotic Redirect Mission (ARRM), a mission that has since been cancelled. ARRM had intended to develop a robotic spacecraft to visit a large near-Earth asteroid and collect a multi-ton boulder from its surface. As the mission engineer, Farah planned operations activities, prepared the mission plan and performed associated resource analyses.
Then came the big one – the Mars Perseverance rover and the Mars Helicopter, Ingenuity, which hitched a ride with the Perseverance rover and successfully demonstrated powered flight on Mars in April 2021. This is the first such flight in any world beyond Earth – and Farah was part of the team that helped make it happen.
Working on Perseverance was a dream of mine coming true after more than eight years. I have to admit that Ingenuity has a special place in my heart for two reasons: firstly, it was our 'Wright brothers moment', the first powered flight on another planet. Secondly, having done my Master's in the turbomachinery and aerodynamics side of Aerospace Engineering, followed by my PhD in Space Systems Engineering, it felt like I was bringing those two separate parts of my education together in one mission.
That first flight by Ingenuity on 19 April 2021 was truly historic. I remember waking up in the middle of the night to head to the lab to wait for the data to arrive (I am not sure that I even slept). However, what sealed the deal for me was seeing that first black-and-white image that came down from the helicopter navigation camera of Ingenuity's shadow on the surface of Mars. It was taken while Ingenuity was in-flight. Everything about that day was extraordinary; a picture-perfect flight, incredible imagery and a video taken by the rover with just the right timing to capture the entire thing. I think part of what we accomplished is still sinking in for me, even all these months later, and I am sure that I will always remember that incredible day.
I was in charge of coordinating the deployment of Ingenuity from the belly of the Perseverance rover down to the ground. I also coordinated all of the rover activities associated with the first flight. My big scary moment was not the day of that first flight however, but earlier, on 4 April 2021, when we dropped the helicopter on the surface of Mars. My team and I had spent hundreds of hours preparing for that complex set of events and I can still remember seeing that first image of the helicopter safely on the ground after the rover drove away from it. Better yet, we heard from it straight away on that first day and then again, the next morning, when we confirmed that it had survived the harsh Martian night.
We just flew... ON MARS. I'm still in disbelief that we pulled this off. Our lab motto is "Dare Mighty Things" and let me tell you, we sure lived up to that today! #MarsHelicopter pic.twitter.com/klyysEeDCJ

— Farah Alibay (@farahalibay) April 19, 2021
The importance of staying curious
What is your advice to others interested in following a similar route to you?
I would say dive in head-first and follow that curiosity. Information is readily available now more than ever, so if you are curious about a particular field, learn as much as you can about it and push yourself! Any career path that you follow will come with hurdles and failures, but having a goal that you are passionate about is what helps you to pick yourself up when those failures happen and try again.
What's next for you? Any new projects in the pipeline or goals yet to be fulfilled?
There are so many incredible opportunities, all I know is that I will keep exploring. The JPL has a variety of ongoing projects to explore other planets, moons and asteroids, and even to learn about the origins of the universe or search of exoplanets. But for now, I am taking a few months off to focus on some personal projects and then…we will see!