In Formula One, every millisecond counts. Just ask alumna Hannah Schmitz, Oracle Red Bull Racing's Principal Strategy Engineer, who, alongside a skilled team of analysts, makes split-second in-race decisions based on complex and ambiguous data.
Reacting to live scenarios on a race day is incredibly exciting – you sit on the edge of your seat when you have made that split-second decision.

Alumna Hannah Schmitz
Since joining the Formula One racing team as an intern in 2009, Hannah has risen through the ranks to become the race strategist of drivers Max Verstappen and Sergio Pérez. It is a job which requires adaptability and the ability to make quick, race-defining decisions under pressure – skills, some of which, Hannah says she first learned during her Cambridge Master's Degree in Mechanical Engineering.
As one of the architects of Oracle Red Bull Racing's winning strategies, alongside Head of Race Strategy Will Courtenay and a large team of analysts, it is imperative that Hannah keeps a clear head – whether she is on the pit wall, at the circuit or back in the state-of-the-art operations room facility in Milton Keynes.
On race days, Hannah is required to instantly react to live scenarios, and when stationed on the pit wall for example, Hannah must look at the bigger picture of how to win the race. Supporting her in these decisions are the analysts, who are collectively responsible for processing billions of simulations before each race and live at each Grand Prix (providing essential information on car pace, track conditions and tyre degradation) to enhance team strategy and work out pit stops. The timing of these pit stops (for new tyres etc.) are crucial, and races can be won or lost in these moments.
At the Monaco Grand Prix in May 2022, the team orchestrated a pit stop plan which ultimately led to Pérez taking the chequered flag and Verstappen clinching a podium place. And it was the winning strategy used at Monaco, considered bold and proactive at the time, that prompted the team's advisor and former professional racing driver Dr Helmut Marko to say afterwards: "We were all exceptional, but if we won, it was mainly due to Hannah".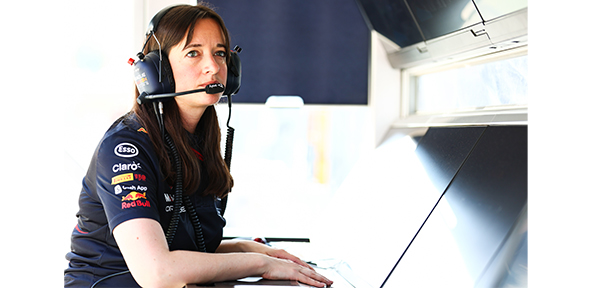 We caught up with Hannah to find out what it takes to become a strategy engineer, why she chose to work in the field and how her experience at Cambridge helped set her up for her future career.
Reacting to live scenarios on a race day is incredibly exciting – you sit on the edge of your seat when you have made that split-second decision. You then have maybe 20 seconds, which doesn't sound like any time, but in a race environment, sitting there waiting to see if your decision has paid off can feel like a lifetime.
As a race strategist, you have to tell a lot of people what to do and they have got to listen to you. It's all about building up that trust, and I think as a woman unfortunately that was harder to achieve in the beginning, but now I have that respect, and I hope other young women who want to get into the sport will see that they can do it too.
At the Brazilian Grand Prix in 2019, I was asked to step onto the winner's podium alongside Verstappen to collect the Constructors' trophy – this was an incredibly special moment and the pinnacle of my career. I had made the call to pit Verstappen for a third time, despite knowing he would initially lose the race lead, but the move resulted in him winning! I had also just come back to work after having my first child, so this was quite a big thing for me, to prove I was still here and could do the job well. It was just an incredible experience.
Working in race strategy has given me the opportunity to look at the bigger picture and play a key role in race by race decisions. I first became aware of strategy during my first job at Red Bull Racing. I was working in modelling and simulation and enjoying it, but I wanted to be more directly connected to the racing. I have always loved board games and been a good communicator, so strategy has played to those strengths and allowed me to maintain an engineering back bone.
My time at Cambridge prepared me well for life in general, including how to work with others and problem solve in a high pressure environment. I definitely use all the skills I learned during my Master's, as well as the maths! Having the more general structure to the engineering degree initially was a great foundation, as in my experience, most engineering problems draw on a combination of things. Cambridge was a unique and incredible experience. I found it challenging, particularly in the first year after my gap year, but the supervision structure was very helpful and I soon found my way.
Being a part of Cambridge University Eco Racing (CUER) was one of the highlights of my degree. It taught me so much about working as a team, conflicting priorities and how to resolve them, and working to a timescale, all with real-world obstacles. Not only did CUER feed my competitive nature, but it was very applicable to Formula One. As CUER's Mechanical Team Leader, I led the team during our first-ever attempt at the World Solar Challenge – an international solar-powered car competition through the Australian Outback.
My experience at CUER really set me apart when I was applying for my role at Red Bull Racing. I formed such a close bond with the people I met at CUER, and there's something about working in a team and supporting and encouraging each other which you don't get sitting at a desk. Teamwork was something I definitely wanted to continue with into my professional career and it's still one of the best bits of my job today. I also learned some resilience during my time at CUER, which I have found to be an important attribute in the real world!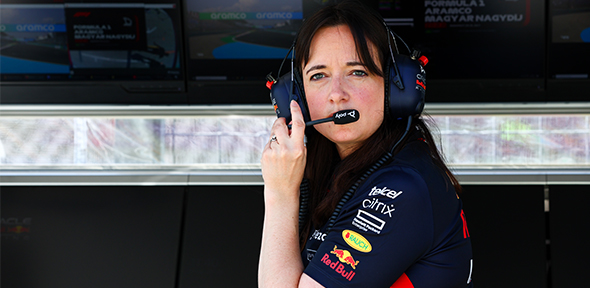 Improving diversity and inclusion is a big and important topic in motorsport and Formula One right now, and one that I am personally very passionate about. When I first joined CUER, we ran outreach workshops at local schools and also across the country. We talked to the primary school children and demoed our solar-powered car. We had designed a little activity for them all to work in groups and build their own miniature solar cars, which they then raced in the playground. All the children seemed to really enjoy it and it was a pleasure to see their excitement, creativity and passion towards STEM. I think outreach like this is so important in trying to grasp pupils' imaginations and show them what a STEM career can be like. I knew I wanted to be an engineer from a young age. I was always interested in how things worked, cars in particular. At my school they really encouraged engineering and physics and there were lots of opportunities to get involved with extracurricular activities.
I think it's so important to love what you do. Use university to investigate that and make the most of the opportunities available to you. Then try and find a career that lets you follow those passions. I would definitely recommend an internship and using your summer break to get some additional experience if you can. The most important advice I wish I had followed (and probably should still follow more) is: do not worry about what other people think and trust in yourself.