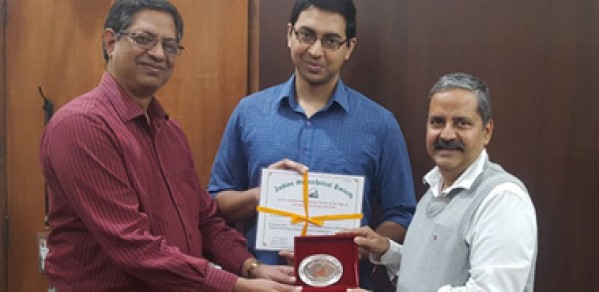 A paper by ​Srikanth Madabhushi (current PhD student in the Geotechnical Group) & Gopal Madabhushi, Professor of Civil Engineering, has won an award.
The Indian Geotechnical Society presented the IGS – Dr Shamsher Prakash Biennial Award to the paper titled 'Finite Element analysis of Floatation of Rectangular Tunnels Following Earthquake Induced Liquefaction' that was authored by Madabhushi SC Srikanth (current PhD student in the Geotechnical Group) and Madabhushi SP Gopal, Professor of Civil Engineering in the Department, published in the Indian Geotechnical Journal (Volume 45(3), pp 233-242).
Earthquake induced liquefaction causes extensive damage to infrastructure as witnessed in many recent events. Buoyant structures like tunnels or pipelines can float following liquefaction, which is a major concern for existing tunnels that pass through liquefiable soil deposits like the Bay Area Rapid Transport (BART) tunnels in the San Francisco Bay Area or new tunnels being constructed in seismic regions of the world like the Thessalonica Tunnel in Greece. This paper investigates numerically what happens to rectangular tunnels passing through liquefiable soils and predicts the uplift they will suffer following soil liquefaction. It is a complementary study to the physical modelling research that is being carried out on tunnel floatation at the Schofield Centre in high gravity centrifuge tests.
This award is given once every two years to the best paper in the area of Soil Dynamics & Earthquake Engineering. The recipients were presented with a silver plaque and a commendation by Professor GL Sivakumar Babu, President of the Indian Geotechnical Society at the Indian Institute of Science, Bangalore.