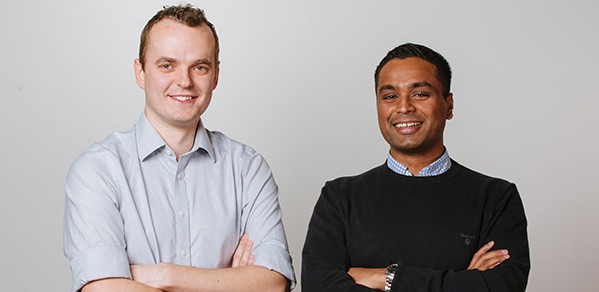 Cambridge Bio-Augmentation Systems (CBAS), led by alumni Oliver Armitage and Emil Hewage, wants to redefine the limits of the human body.
We believe that innovative engineering could offer significant patient benefits in terms of avoiding side effects, increasing comfort and functionality, and reducing healthcare costs, whether it's in the form of a smart pacemaker, insulin dispenser or prosthetic limb.

Oliver Armitage
"When the team showed me their plans, it dawned on me that this could change my life," says James Young. "If I was offered a human arm and leg now I wouldn't want it."
James is a double amputee and is describing when he first started working with the team of entrepreneurs, scientists, engineers and doctors behind Cambridge Bio-Augmentation Systems (CBAS).
When CBAS co-founders and directors Oliver Armitage and Emil Hewage were engineering students at Cambridge, they discovered a mutual interest in how technology could be used to push the boundaries of what's possible in healthcare.
"My first idea was to make the best prosthetic arm or leg. But what is the best?" says Oliver. "It's a limb that's attached so well that there is complete control, where the hand moves without deliberate thought, where the machinery listens to muscles tensing, where the sensory feedback is complete. That's when I started thinking about the connector."
The connector is an interface. It's the boundary between man and machine that can enable an amputated limb to become fully functioning, or 'bionic'. The vision at CBAS is to make the technology affordable and available to as many as possible, and the best way to do this for amputees, they believe, is to develop standardised interfaces on which to build prosthetic devices.
"Integrated bionics unlocks a cheaper and far more effective model for treating chronic conditions," says Emil.
Amputees can suffer discomfort and limited functionality with conventional prostheses. Instead, CBAS is developing a permanent connection, a prosthetic interface device (PID), between bionic devices and neural and soft-tissue systems within the body of any amputee.
"It's like a USB port," he adds. "The user would 'plug and play' whatever limb or device they need. They could even print the add-ons using a 3D printer at home."
The PID should not only lower the cost of artificial limbs by around 60% but also reduce the time-consuming adjusting and refitting of custom-made prostheses because any prosthetic limb can be designed to attach to the standardised interface. The implant also shifts the weight of the limb to the patient's skeletal system, reducing uncomfortable friction.
"There are growing numbers of amputees globally," adds Emil. "Diabetes and cardiovascular disease cause a lot of planned amputations, and for patients with these conditions using this standardised approach reduces the cost."
CBAS hopes for a first in-human use of a fully neurally connected implant for an amputee in 2018. Oliver explains that their aim is for two-way brain communication: "Full control of the arm or leg with the brain, with pinpoint accuracy, and full sensory feedback to the brain. We want it to be possible to do something as complex as writing."
He and Emil set up CBAS two years ago, at the same time that Emil was working on his PhD in computational neuroscience in the Department of Engineering.
Ensuring that what they make is not only effective but also accessible and affordable was a goal from the start.
"We're not interested in building a single product for a single condition," Oliver says. "We've seen the amazing things that can be done with amputees but it's always a research study costing millions that benefits just one person. We want to have a larger impact."
He describes this social enterprise aspect of CBAS as an 'impact venture'. "Wanting to run a company and have an impact – they aren't separate, they can't be," he explains. "If you have a piece of technology that you believe could have a huge positive impact on a large number of people, the only way to do this at scale is as a commercial venture."
"Many chronic conditions depend on long-term use of pharmaceuticals or devices," he adds. "We believe that innovative engineering could offer significant patient benefits in terms of avoiding side effects, increasing comfort and functionality, and reducing healthcare costs, whether it's in the form of a smart pacemaker, insulin dispenser or prosthetic limb."
What drives Oliver, as it did during his PhD research in Cambridge on the engineering of biological systems, is the desire to understand how nature might work better with the aid of technology. "Evolution is a progression and we're at a point in it," he says. "Let's see where we go."