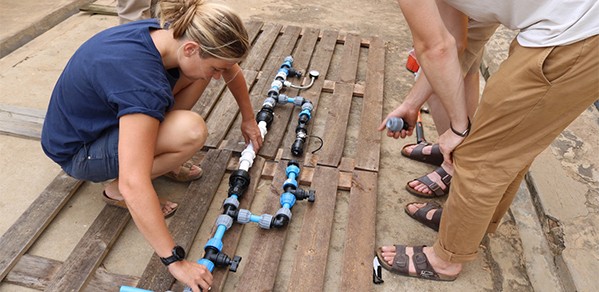 Blue Tap, a water purification social enterprise founded by PhD student Francesca O'Hanlon, has secured an Innovate UK Smart Grant towards the technical development of its chlorine doser for use in developing countries.
Our goal is to create an affordable water purification product for millions of users.

Blue Tap CEO Francesca O'Hanlon
The Blue Tap Chlorine Doser is designed to be fitted into piped water systems in emerging markets to make water safe to drink. According to the Blue Tap team, their product could be of use to more than 130 million households worldwide, alongside schools, healthcare facilities and in humanitarian contexts.
With the support of Innovate UK, part of UK Research and Innovation, Blue Tap is using 3D printing to rapidly develop its affordable water purification technology. Tested in Mbarara, Uganda, through human-centred design methods, Blue Tap is now looking for field partners to demonstrate its technology with relevant water systems. These include:
Buildings with piped water from a municipal supply
Domestic rainwater harvesting systems with electric pumps and header tanks.
The team are particularly interested in partnering with non-government organisations (NGOs) with links to schools, households and healthcare facilities. They can be contacted via the Blue Tap website.
Blue Tap CEO Francesca O'Hanlon, who is studying for a PhD in resilience to climate change and water security at the Centre for Sustainable Development, said: "Not only does this kind of support from Innovate UK allow us to buy all the materials and sensors that we need for technical development, it also encourages us to keep moving forward. Our goal is to create an affordable water purification product for millions of users."
Thomas Stakes, technical lead for the project and CTO of Blue Tap, said: "With the climate crisis escalating and putting an ever-increasing stress on water resources and infrastructure, technology like our chlorine doser has a key role to play in ensuring sustainable safe water access for all."
Rebecca Donaldson, assistant technical officer for the project, added: "We'd like to extend our thanks to Chris Woodward and Enterprise Europe Network for their continued support during the application and award administration process. We look forward to continuing our work with them to explore new potential partnerships for our technology."
Find out more about the Blue Tap story.