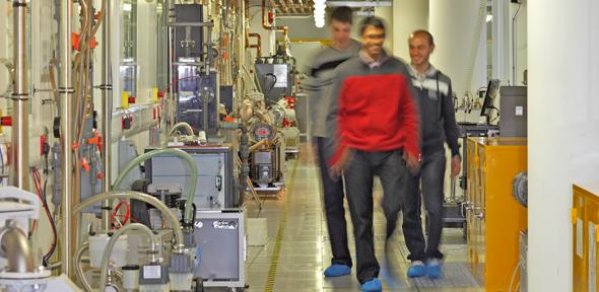 The Engineering and Physical Sciences Research Council has announced funding for six Cambridge-led Centres for Doctoral Training, along with a further two in which Cambridge are partners, across a range of physical sciences and engineering disciplines.
This type of collaboration is a key element of our industrial strategy and will continue to keep us at the forefront of the global science race.

David Willetts
Details of how a £350 million grant from the Engineering and Physical Sciences Research Council (EPSRC) will be funding over 70 new Centres for Doctoral Training (CDTs) across 24 UK universities, including Cambridge, in engineering and the physical sciences has been announced by David Willetts, Universities and Science Minister.
University of Cambridge academics have won six of their bids for CDT funding, including the renewal of two that are currently running, and are partners in two further successful bids from UCL and Liverpool. The total value of the grant will be around £30 million, spread over 8 years, with the first cohorts to start in October 2014; the funding is targeted at areas considered to be crucial to the country's economic growth.
Willetts said: "Scientists and engineers are vital to our economy and society. It is their talent and imagination, as well as their knowledge and skills, that inspire innovation and drive growth across a range of sectors, from manufacturing to financial services.
"I am particularly pleased to see strong partnerships between universities, industry and business among the new centres announced today. This type of collaboration is a key element of our industrial strategy and will continue to keep us at the forefront of the global science race."
The EPSRC is the UK's main agency for funding research in engineering and the physical sciences, and invests in research and postgraduate training to help the nation handle the next generation of technological change. These CDTs are funded for four years and include technical and transferrable skills, as well as a research element, bringing together diverse areas of expertise to train engineers and scientists with the skills.
The existing Cambridge Nano CDT is one of the Centres whose funding has been renewed, enabling the over 500 Nano researchers to continue successfully working in a multitude of disciplines, including physics, chemistry, engineering and materials. This funding follows recent investments exceeding £200 million in support of Cambridge Nano research, and new buildings for the Cavendish Laboratory. The Centre will work with a raft of companies including Nokia and Unilever to help the UK develop a lead in exploiting NanoTechnologies. Director Professor Baumberg is delighted, commenting that "our high-calibre interdisciplinary student cohorts will be Nano's future leaders". 
A Centre of Gas Turbine Aerodynamics is to be one of the newly-created CDTs, set to become an international centre of excellence aimed at training the next generation of leaders in research and industry. It will bring together the Universities of Cambridge, Oxford and Loughborough, along with the internationally successful companies Rolls-Royce, Mitsubishi Heavy Industries, Siemens and Dyson, and will be assisted by a team of experts from NASA and MIT. The centre is designed to support a sector which is currently responsible for the employment of 6.8% of UK manufacturing jobs, and which, over the next 20 years, is predicted to be worth in-excess of US$1,650 billion.
Another new centre is aimed at developing world-class, technically excellent, multi-disciplinary Engineers equipped to face current and future challenges in Future Infrastructure and Built Environment to address society's needs and aspirations. Seventeen industrial partners and five leading international academic centres will be involved in shaping the Centre's training programme to meet national skills needs. The PhD training focus will build on Cambridge's existing research strengths, embracing topics ranging from future energy infrastructure to sustainable urbanisation and innovative construction materials.
Other Cambridge CDTs are set to be developed or renewed in graphene, ultraprecision and computational materials, as well as a photovoltaics Centre in partnership with the University of Liverpool and a phototonics Centre in partnership with UCL.
Paul Golby, EPSRC's Chair, said: "Centres for Doctoral Training have already proved to be a great success and the model is popular with students, business and industry. These new centres will give the country the highly trained scientists and engineers it needs and they will be equipped with skills to move on in their careers."