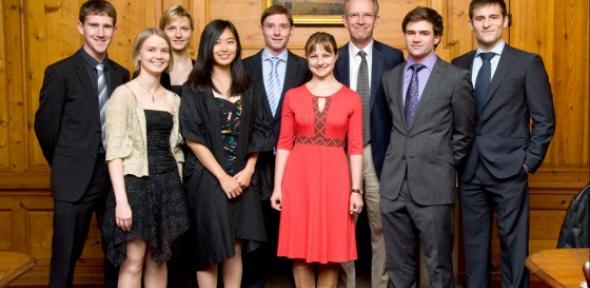 An extension to the University of Cambridge's exchange programme with the Massachusetts Institute of Technology has been announced, enabling more undergraduates to study at "both" Cambridges during their degree.
The students who have been on this exchange have all benefited greatly from the adventure, often returning to lead new University activities and going on to flourish in industry and research.

Peter Long
Originally set up in 2000, the Cambridge-MIT exchange programme has to date enabled more than 300 Cambridge students to benefit from a chance to study in the United States as part of their undergraduate course. In the last two academic years, generous funding from BP has allowed more than 30 students, most of them from the Department of Engineering, to take part.
Now, BP has given further funding to the University which will enable more students to participate. The arrangements, which were announced at a launch event last week, will mean that places are open to students from Chemical Engineering, Chemistry, Computer Sciences, Mathematics and Physics as well. In total a further 18 places on the programme will be funded over the course of the next three years.
Those who have been on the exchange have typically found it a life-changing experience. One graduate reported back: "My year at MIT was long, challenging and full of by far the most rewarding experiences of my life. From the range of fascinating and varied courses I took to the unbelievable friends I made, every aspect of the exchange scored a massive success. If I had to pick one standout feature, it would be that as a structural engineer I really appreciated the chance to interact intimately with other disciplines in cross-over classes at both MIT and Harvard."
Another wrote: "The experience taught me not only the joy of teamwork, but also gave me a chance to meet engineers from across the US, and beyond."
Dr Peter Long, from the University's Department of Engineering, said: "The students who have been on this exchange have all benefited greatly from the adventure, often returning to lead new University activities and going on to flourish in industry and research."
"The extension of the scope of the programme beyond the Engineering core  will strengthen the exchange and further enable students to take advantage of the breadth of subjects in the two Universities. We hope that this is just a sign of things to come and that in the future it will be possible to extend the exchange programme again, taking it beyond the physical sciences."