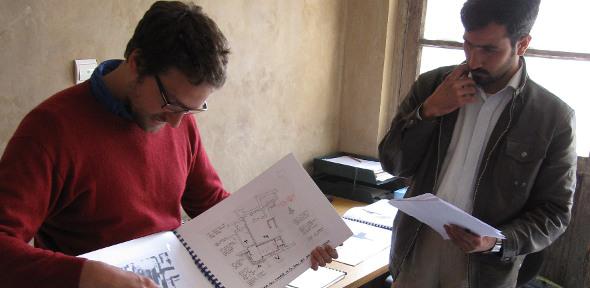 Harry Wardill studied Engineering here at Cambridge from 2000-2004. He now lives in Kabul in Afghanistan working for an organisation called the Turquoise Mountain Foundation, working as a project engineer on the Murad Khane (Old City) regeneration project. His initial contract is for 1 year, below he tells his story from Cambridge to Kabul.
"Thinking back, this journey really began in my second summer at Cambridge, when a classicist friend of mine suggested travelling overland from Istanbul to Cairo to take in a few of the sites en route. Having never left Europe, I was keen to broaden my horizons, and jumped at the opportunity. The trip not only ignited my passion for the people, architecture, art and food this part of the world has to offer, but also confirmed through its rich built history that the switch I had made from mechanical to structural engineering was the right one. The following summer was spent working at Alan Baxter & Associates (ABA) in London, getting a taste for structural engineering with a conservation leaning. After graduating from Cambridge, with the memory of my first trip still at the forefront of my mind, I decided to head out to Iran and Pakistan for a few months of wandering before returning to ABA to embark on my career.
"In contrast to now, 2004 was a great time to graduate, and the work at ABA was interesting and varied. During my four years there I worked on many different projects ranging from the restoration of a 1920's steel framed building on Regents Street for the Crown Estate, to the regeneration of a historic tin mine complex in the old industrial heartland of Cornwall. Having completed the process to become a chartered member of the IStructE, I started to look abroad for opportunities in the field of building conservation. One organisation that I came across that really stood out was the Turquoise Mountain Foundation (TMF) based in Kabul, Afghanistan. As luck would have it they were recruiting, so I applied, managed to secure a position, and flew out at the end of January 2009.
"TMF is involved with the regeneration of Murad Khane, the historic commercial centre in the old city of Kabul, as well as running an educational institute for traditional Afghan arts, which will ultimately be housed in a number of the regenerated buildings. I have been employed as a designer and project manager for the restoration of two courtyard houses dating from the late 19th century, one note worthy for its decretive woodwork screens (The House of Screens), and the other for its intricate plasterwork niches (The House of Niches). Both of these structures are currently in poor condition, primarily due to the rubbish that has been allowed to accumulation over the years, resulting in a much higher ground level than the buildings where originally designed for. This has lead to the rotting of timber sole plates and column bases, erosion of earth brick walls, and settlement of foundations. Other problems have occurred due to timber elements being removed for use as firewood to help survive the harsh winters, general neglect, and in some cases direct rocket hits at the time when Kabul was a battle ground during the civil war. The two buildings, which will be completed by summer of next year, will be used as accommodation for visiting teaches to the institute, and as part of the woodwork school. The main thing that has struck me during my relatively short time here is the real buzz of activity there is down on site in Murad Khane. At the height of the building season there will be over 300 workmen on site, many learning new skills from highly trained craftsmen. It is this immediate effectiveness of the project that is most satisfying to witness, and I am very much looking forward to seeing my two buildings progress over the next year and a half."