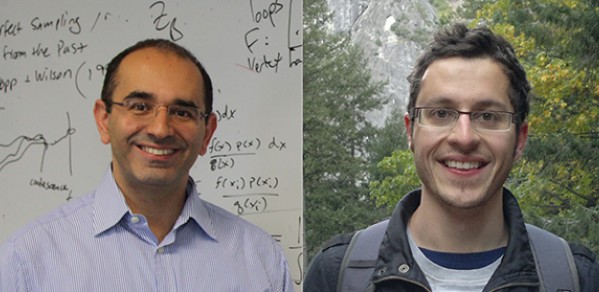 A Cambridge professor and an alumnus have been nominated for the 2017 WIRED Smart List after being identified as individuals who will become 'global forces' in the future.
Tim rose through the ranks faster than anyone I've ever met. Under his leadership, the team has pushed the limits of low-cost, low-power, high-performance 3D graphics hardware.

Dr Eben Upton
Professor of Information Engineering Zoubin Ghahramani and alumnus Tim Mamtora, Master Engineer of Integrated Circuit Design at Broadcom in Cambridge, have made WIRED's 'ones to watch' list after being nominated by industry leaders.
Professor Ghahramani leads a group of around 30 researchers at the Department of Engineering and has published more than 250 scientific papers on statistical machine learning and other areas of information engineering.
In 2013, Professor Ghahramani won a $750,000 grant from Google for his work on a project attempting to build an 'automatic statistician' and has previously served as advisory board member to Microsoft Research Cambridge.
He has been nominated by Professor Andrew Blake, director of the Alan Turing Institute.
"Zoubin is a pioneer in machine learning and AI whose research is making a serious impact," said Professor Blake.
"In December 2016, his start-up Geometric Intelligence was acquired by Uber as its new AI research arm."
Mr Mamtora, who studied Engineering at the University of Cambridge and graduated in 2006, joined Broadcom as a graduate and spent a year at Massachusetts Institute of Technology (MIT).
A key contributor to the development of VideoCore multimedia IP – most notably found in the Raspberry Pi, Roku 2 XS streaming media player and Amazon Fire TV Stick – Mr Mamtora won Broadcom's 'CEO award' in 2014 for his outstanding contributions to the VideoCore graphics processing unit (GPU).
He has been nominated by Dr Eben Upton, founder of Raspberry Pi Foundation and fellow alumnus of the University of Cambridge.
"Tim rose through the ranks faster than anyone I've ever met," said Dr Upton.
"Under his leadership, the team has pushed the limits of low-cost, low-power, high-performance 3D graphics hardware. Every time I think they've hit the wall they seem to come up with another 20% increase in power efficiency or take another square millimetre of silicon out. This is what we're going to need if VR technologies such as Oculus are going to reach the mass market and go beyond the $1,000 (£820) PC plugged into the wall to a $100 smartphone running on batteries."
He added: "I managed to persuade Tim to write a chapter on 3D graphics for my recent computer architecture book and felt pretty smug until I had to upgrade all my chapters to match."