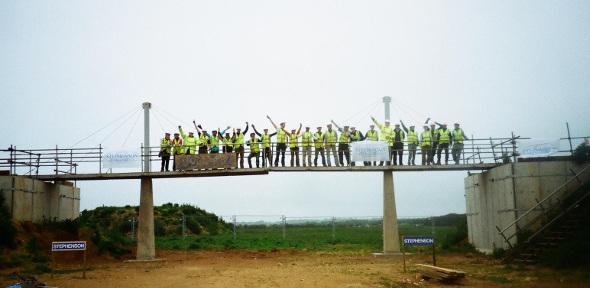 Seventeen third-year students from the Department have taken part, for the first time, in Constructionarium, a scheme designed to introduce students to team working, construction management, and practical issues that affect work on site.
The students built a small-scale version of the new Millau Viaduct in France, but with a central span of 10 metres it was a still a sizeable structure in its own right.
The scheme is run at the National Construction College in Norfolk. Each university is teamed with a Contractor, the team from the Department of Engineering teamed up with Stephensons, and Consulting Engineers (WhitbyBird). The structure had to be completed within a week.
The students had to excavate the foundations, cast reinforced concrete bases for the abutment bearings and the columns, erect the columns and assemble the cable-stayed deck units on embankments at the side. These had to be launched across the valley and were then locked into position before anyone was allowed to cross the structure.
The steelwork for the structure had been prefabricated, but had to be assembled by the students, and as in real life they found that the steelwork did not exactly match the drawings, nor could the structure be launched in the way envisaged. These problems had to be overcome, as did some errors introduced by the students themselves.
The final structure almost met perfectly in the middle, and was declared safe by an engineer, allowing the team photograph to be taken. The project was hard work but was a great introduction to real-world engineering, and showed how an engineering drawing, showing precise millimetre tolerances as used in the original structural analysis, is not always a realistic view of what happens on site.
It is intended that the scheme will be repeated next year, with a larger number of students undertaking several different projects.
We would like to express our thanks to Stephensons and WhitbyBird for their financial sponsorship and the investment of their time, and to Constructionarium for making the whole scheme available to the University of Cambridge.