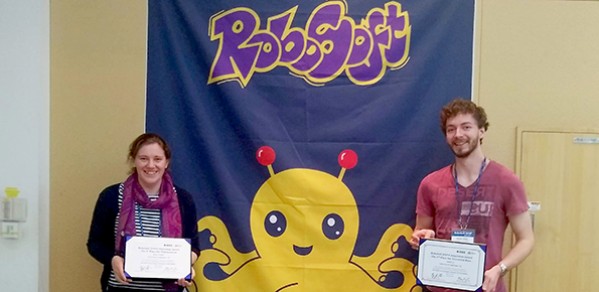 Engineering PhD students Josie Hughes and Kieran Gilday have won an international soft robotics manipulation challenge with their robot CambridgeARM.
This was an opportunity to demonstrate some of the more novel aspects of our soft robotics research to the international community, particularly our robot's ability to solve practical problems. It was great to do so well in the competition and to take home a win for Cambridge!

PhD student Josie Hughes
The duo took first place in the International Soft Robotics (RoboSoft) Manipulation Competition held during the IEEE International Conference on Soft Robotics (RoboSoft 2019) in Seoul, Korea, recently.
The team developed soft robotics manipulators to interact with complex objects made up of different, and sometimes fragile, materials. The challenge was designed to mimic industrial, surgical or domestic scenarios where a robot would be required to manipulate particular objects, handle food or move materials, for example. The items are unknown to the competitors and must be handled without causing damage. In this task, the team demonstrated the robot's ability to lift a range of everyday objects including a leg of pork, a pineapple, seed, coins, business cards, screws, a single crisp, and radishes.  
Josie said: "We developed a highly reconfigurable four finger gripper that had the motor mounted on one of the fingers; this was an innovative move that allowed high force and adaptive force to be achieved. We also exploited the power of materials which, in this instance, involved attaching a reusable putty-like adhesive to our gripper in order to enable the manipulation of small complex objects."
Josie and Kieran, who are part of the Department of Engineering's Biologically Inspired Robotics Lab, also competed in the International Soft Robotics (RoboSoft) Locomotion Competition, finishing in second place. In this challenge, their robot was required to negotiate, as fast as possible, several obstacles in an 'urban area' scenario comprising an unstable building inaccessible to humans. They developed a novel soft robot hovercraft (an interesting mix of traditional engineering solutions and soft robotics) that could expand and contract in order to overcome different terrains. The hovercraft was deployed far away from the building, before venturing inside it and passing through a small opening to negotiate the environment and reach the end of the scenario.  
Kieran said: "Working on the development of the soft hovercraft was great fun. We had by far the noisiest robot in the competition and it caused quite a stir. We managed to overcome all the obstacles, knocking over only one object due to the outlet from the hovercraft."
Josie added: "The RoboSoft 2019 competition was an opportunity to demonstrate some of the more novel aspects of our soft robotics research to the international community, particularly our robot's ability to solve practical problems. It was great to do so well in the competition and to take home a win for Cambridge!"