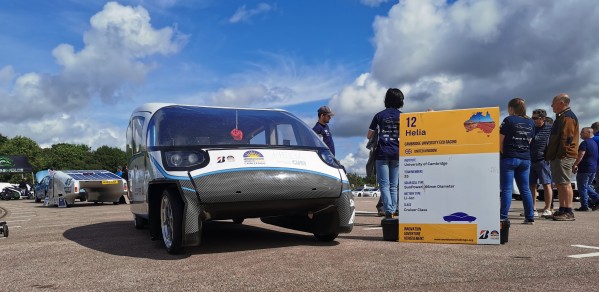 The student society Cambridge University Eco Racing (CUER) have been taking their four-seater solar-powered car, Helia, to car shows around the UK this summer, with a UK solar car student team track event coming up very soon.
We were so grateful to be invited to the Electric Vehicles Festival and the British Motor Show, where we were met with loads of interest and insightful questions from so many who came to see us. It made us feel proud of what we were able to achieve, and CUER would love to return to these events and more in future years.

Finn Heraghty, CUER Co-Programme Director 2020-21
CUER's car was originally designed and built using high performance composites and cutting edge battery technology by the undergraduate team over a period of 2 years, before being taken to compete in the 2019 Bridgestone World Solar Challenge held in Australia.
The first event this summer was the Electric Vehicles Festival, which took place on 7th August in Warwick at the British Motor Museum. Thousands of visitors came to the primarily outdoors event, which aimed to demonstrate the appeal of electric vehicles for those who might be considering moving away from standard combustion engine vehicles. Helia drew lots of attention at the event whilst sitting proudly on display alongside the student led Ardingly Ilfield Solar Team's most recent solar-powered car.
The CUER team also took part in an interview style discussion at the centre stage of the event where they discussed the capabilities of the solar cars that have been designed and built over the years. They also shared their adventure at the World Solar Challenge across Australia. 
The second event which the team attended was The British Motor Show, which took place from 19th-22nd August in Farnborough. This huge and well established event hosted over 18,000 people on one of the days alone, with a combination of indoor and outdoor exhibition stands. The CUER team were once again joined by the Ardingly Ilfield Solar Team, where they had a stand inside the Electric Vehicles hall. Helia drew a significant amount of attention, ranging from car fanatics to groups of children.
Although the CUER team was not able to visit schools with Helia this year due to the COVID pandemic, these events were still a fantastic opportunity to show the potential of engineering to a younger audience and hopefully help to inspire future engineers. The team were especially proud of the feedback from a couple of children in particular, who said "This is the coolest car I have ever seen!" and "This is my favourite car here, can I buy it?". 
The team again took part in a discussion about their car, this time taking place on stage in front of an audience inside the main hall whilst being interviewed by radio and TV presenters Tim Shaw and Fuzz Townshend from the popular TV show Car SOS. This daily discussion allowed members of the audience to hear about the challenges the team members faced before and to ask them questions.
CUER and Ardinly Ilfield team members being interviewed by Fuzz Townshend
However, the team's plans for this summer aren't yet over – on 26th September CUER are planning a UK Solar student led teams track event with Durham University Electric Motorsport (DUEM) team and Ardingly Ilfield Solar Team at the Top Gear race track. This promises to be the first event of its kind, bringing together student led teams from across the UK and showing off their cars to sponsors, schools and families.
For information about event attendance please contact captain@cuer.co.uk