Valentina Gagliardi, now a final year student at CUED, received a Siemens medal from Alan Wood, Chief Executive of Siemens plc, at a ceremony held at Siemens' UK Centre of Competence for Research and Development, Roke Manor on 1st November 2001.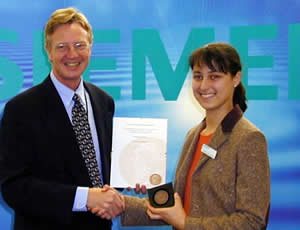 Valentina was nominated for the award in recognition of her excellent project work in the third year combined with her impressive progress in other parts of the Electrical Engineering course.
The Siemens Medal was inaugurated in 1883, and only 14 of the leading Universities in the UK are invited to nominate students to receive these prestigious awards. The awards are each worth £250 and the 2 inch bronze medals are struck at the Royal Mint as replicas of the original medal first awarded in 1883. The Siemens company offers these awards to raise the profile of science and technology, and to encourage students into the profession of electrical and electronic engineering.