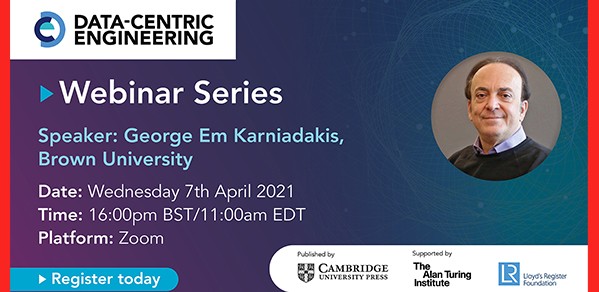 A programme of virtual events about data-centric engineering will begin on 7 April, running monthly until October, with talks from experts in the field and those applying data-driven approaches in industry and other settings. The series includes networking events for early career researchers and those new to the field.
The Data-Centric Engineering (DCE) Webinar Series discusses the use of data science methods and models for improving the reliability, resilience, safety, efficiency and usability of engineered systems. 
The Series, which will be delivered via Zoom, is hosted by the Data-Centric Engineering journal at Cambridge University Press – a peer-reviewed open access journal dedicated to the interface of data science and all engineering disciplines – with the support of The Alan Turing Institute and the Lloyd's Register Foundation.
Details of the first webinar in the series are as follows:
Title: Approximating functions, functionals, and operators using deep neural networks for diverse applications 
Speaker: George Em Karniadakis, The Charles Pitts Robinson and John Palmer Barstow Professor of Applied Mathematics and Engineering, Brown University, USA
Delivered on: 7 April at 4pm (16:00) BST. 
Register in advance to attend the session.
Other confirmed speakers for the DCE Webinar Series include:
Neil Lawrence, DeepMind Professor of Machine Learning at the University of Cambridge – 5 May at 4pm (16:00) BST
Gianluca Iaccarino, Professor of Mechanical Engineering and Director of the Institute for Computational and Mathematical Engineering, Stanford University, USA – 2 June at 4pm (16:00) BST
Julie McCann, Professor of Computer Systems and Head of the Adaptive Emergent Systems Engineering (AESE) Group, Imperial College London, UK – 8 September at 4pm (16:00) BST.
Abstracts for the sessions and details on how to register are available online.