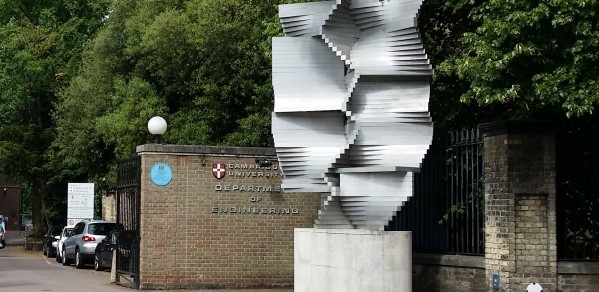 A 1967 sculpture at the Department of Engineering is among 41 post-war public sculptures listed by the Department for Culture, Media and Sport on the advice of Historic England.
Situated in front of the Department of Engineering's Baker and Inglis Buildings, Kenneth Martin's Construction in Aluminum resides on Trumpington Street in Cambridge. The piece represents a formula used in jet propulsion and was made in Department workshops with the assistance of Cambridge engineers. It is part of Martin's Oscillation series – works inspired by physics and music.
The work is included among 40 other sculptures given added protection, each designed to bring public spaces in England back to life after World War II.
Kenneth Martin (1905–1984) was an English painter and sculptor, who together with his wife Mary Martin and Victor Pasmore was a leading figure in the revival of Constructivism in the 1940s. Primarily Martin made mobiles save from the Oscillation sculptural series throughout the 1960s. These all consisted of bars stacked and sometimes progressing up in regular steps, at other times stopping or jumping. Martin likened this to the rhythms of jazz.