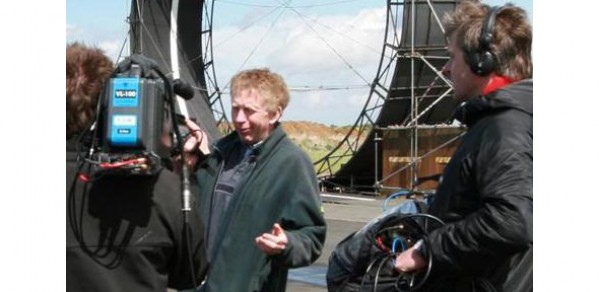 The Department's Dr Hugh Hunt will be featured on the TV programme 'Fifth Gear', a Stunt Special show which will screen on Channel Five Saturday 23 May at 11.30am. Together with the stunt driver Steve Truglia, Hugh discusses the dynamics of a 12 metre diameter loop-the-loop, and they work out that Steve needs to be going at least 36mph when he enters the loop and that he will experience G-forces six times his own weight. They also consider issues like tyre pressure, suspension bump stops, steering, and the possibility of the engine cutting out.
For a car-crazed child, there is nothing more exciting than defeating the laws of physics from the safety of the kitchen floor - by making a favourite toy car loop-the-loop around a Hot Wheels track. Now, 'Fifth Gear' is going to do the trick for real. A real car and a real driver will perform the feat on a scale that will make this one of the best car stunts ever - and hopefully set a new world record.
Steve Truglia is an ex-Special Forces soldier-turned-stuntman who has appeared in James Bond films and is currently planning a mindbogglingly dangerous skydive from space.
This 'Fifth Gear' special follows Steve every step of the way to see how he prepares for this extraordinary stunt. He seeks advice from Finnish female stunt riders, a daredevil aerobatics pilot and our own Dr Hugh Hunt senior lecturer in mechanical engineering, while training to withstand the incredible G-forces he will experience while driving in the loop.
Steve needs to hit the launch ramp at the perfect speed. If he is too slow, he will drop out of the sky as soon as he is upside down. If he is too quick, he will experience enough G-force to make him blackout. Steve has never failed to complete a stunt yet - but will he succeed this time?
Hugh went over to Ipswich to watch the stunt live and said "It was nailbiting".