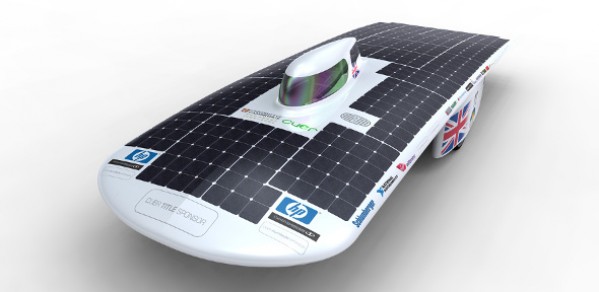 The team sent this report the day after they finished the race: "Well, we never really thought that yesterday would arrive. We arrived in Adelaide with Endeavour on the trailer but we crossed the finish line in Victoria Square on solar power. We crossed the line at 1:20pm SA time, Saturday 31st October having set off from State Square, Darwin at 8:00am NT time, Sunday 25th October. It took almost six full days, much heartache, and hard work to cover the 3000km from Darwin to Adelaide but we did it and 1616 of those kilometres were under solely solar power.
"The feeling of crossing the finish line after such an epic and extraordinary journey was incredible. So many supporters and team family members and other teams were there to welcome us, clapping and cheering as Endeavour came to a final stop over the line. We could not be more pleased and overawed by the achievement of crossing an entire continent and the moment was such that the only way to do it justice was to pick up both of our team managers and throw them bodily into the fountain! A spray of champagne may have made contact with the solar cells but it seemed a fitting end to such an 'Endeavour'.
"The Global Green Challenge Award Ceremony was held last night and congratulations are due to all the teams who competed but especially to the Japanese Challenge class winners from Tokai University who completed the race in 29.49 hours at a remarkable average speed of 100.54kph. It is rumoured that their top race speed was an incredible 140kph! Second place went to the team from Delft, Nuon in Nuna V. Their exciting last day saw solar car tag up the Stuart Highway with the team from University of Michigan in Infinium, with Nuon finally crossing the line only 30 minutes ahead. We awoke this morning to find that the final results had been posted and that CUER had succeeded in coming in 14th. This is great result considering all the problems that we encountered and although we did not quite achieve our aim of top 10, we believe that for a first try, with faulty hardware, we have done pretty well!
"Adelaide saw its bars overrun by solar car teams from 13 different countries at the (unofficial) after party. The feeling was one of relief that the event was over, sadness that, in some cases, two years of work had come to an end and excitement as plans were made between new found friends from different countries to stay in touch. The Global Green Challenge has been an incredible experience, one full of highs and lows; frustration and disappointment yes, but more importantly, excitement, awe, a sense of achievement and international camaraderie. Cambridge University Eco Racing is honoured to have been a part of such an event and will return in 2011 with renewed vigour and, hopefully, a car that can take us across the line in first place."