Many congratulations to the ten undergraduates in their second year, who have been awarded the prestigious Engineering Leadership Awards from the Royal Academy of Engineering.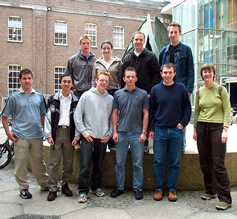 There is stiff competition for these National awards, and the Department is delighted that so many of our undergraduates have been selected this year.
The objective of the Engineering Leadership Awards is to allow outstandingly able engineering undergraduates, with marked leadership potential, to undertake an accelerated personal development programme. They will be afforded the opportunity to acquire and enhance the necessary skills required to fulfil their potential, in preparation for fast track executive careers in engineering industry.
Benefits to the students include:
Receiving £500 cash each year for three years to cover educational expenses;
Gaining up to £6,000 over three years for activities on their own bespoke personal development plan;
Attending seminars and workshops which provide management training and career development advice, held at the University of Cambridge;
Having access to their own personal mentor, who is a Sainsbury Management Fellow;
Gaining high quality work experience and career opportunities.