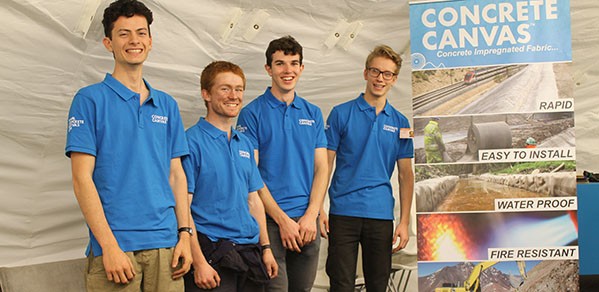 Engineering undergraduates Tom Vinestock (St John's College) and Stuart Lewis (Magdalene College) recently completed a 10-week internship at Concrete Canvas. Here they detail their experience
I learned a lot over the course of my internship about how commercial engineering is practised. I also developed a range of skills, both those taught as part of my course, such as CAD and data analysis, and others which were newer, such as liaising with suppliers...

Undergraduate Tom Vinestock
Hi Tom, what were the highlights of your internship?
In general, I found it rewarding that the work I was doing had tangible outcomes. My research contributed to the development of a new idea and informed the decision on a significant capital expenditure. The more hands-on approach at Concrete Canvas was also a plus; it was brilliant to have relatively ready access to a well-equipped lab and workshop. The company was really welcoming too.
How has this experience helped you with regards to your future career aims?
I learned a lot over the course of my internship about how commercial engineering is practised. I also developed a range of skills, both those taught as part of my course, such as CAD and data analysis, and others which were newer, such as liaising with suppliers, and writing industry-style, as opposed to academic, project and lab reports.
The internship also made me consider the advantages of working for a smaller company, which I hadn't previously considered, and the benefits this brings, such as greater responsibility and faster decision-making, which allowed my project to progress more quickly.
I aim to use my technical skills to work on innovative and worthwhile engineering projects, with some degree of freedom to explore my own ideas. I would also like to do something that has a broadly positive environmental impact.
Stuart, how has the internship benefitted you?
I enjoyed work at Concrete Canvas and would be keen to do more. My work related to the reuse of materials; I was involved in designing and constructing a new machine to try to recycle industry off-cuts.
I enjoyed the freedom that I was given in my project as well as working with lots of different people. It was nice to apply some of the skills picked up at University and to develop new and more practical skills.
The Department of Engineering runs an Industrial Placements scheme and supports current undergraduate students as they search and apply for summer internships. The Department also works closely with employers to promote vacancies and encourage applications for their internship opportunities. To find out more, email Vicky Houghton, Industrial Placements Co-ordinator, at placements-coordinator@eng.cam.ac.uk