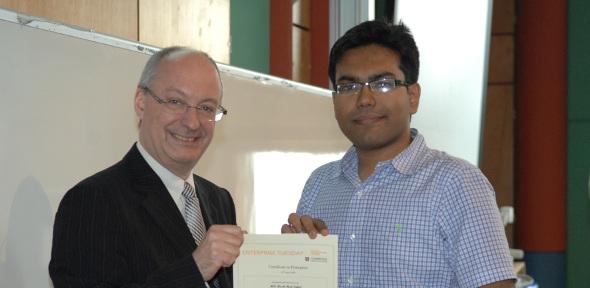 Six students from the Department have been awarded the "Certificate in Enterprise" after attending the highly successful Enterprise Tuesday series. To receive the prestigious certificate candidates had to prepare a portfolio which addressed eight of the twelve themes discussed at the Enterprise Tuesday lectures.
I thought the programme was well structured and included a wide range of speakers whose knowledge, experience and passion for each of their businesses came through in their presentations.

Shakir Mohamed, PhD student at the Department of Engineering
In total, fifty-nine people were awarded the Certificate in Enterprise and of the eleven gaining distinctions for the quality of their assignments, two were from the Department: PhD students Shakir Mohamed and Mash-Hud Iqbal.
Shakir's portfolio addresses issues in entrepreneurship such as how to recognise business opportunities, the ways in which resources can be gathered, and how to avoid mistakes in setting up a new business.
Shakir said, "I thought the programme was well structured and included a wide range of speakers whose knowledge, experience and passion for each of their businesses came through in their presentations. I find that entrepreneurial skills are particularly useful for an engineer whether one chooses to engage in a new business venture or not. These skills allow you to think about the impact of engineering work in the context of generating profit and usefulness to the consumer, and also gives and additional viewpoint from which to be objective about an engineering product, whether it be hardware, software or a design. The enterprise Tuesday series is a great way for anyone to gain additional skills outside of their field of study. It is also useful to test or even develop your networking skills in the networking sessions held after the talks. In many cases the speakers are at these networking sessions and it is interesting to speak to them and quiz them about their experiences."
Mash-Hud has also benefited from the series. He explained, "From attending most of the Enterprise Tuesday lectures I learned a great deal about how to develop my entrepreneurial skills. All of the key-note speakers demonstrated a huge amount of motivation and provided valuable suggestions that could be helpful to young entrepreneurs. Being motivated, believing in yourself, being determined and persistent are the key issues to start with. After that comes understanding the business structure, knowing the market and customer needs, and seeking help from experienced key-players. Finally, in order to actualise an idea one needs to raise funds, convince investors, hire experienced people, and understand how boards of directors and business partners work. Learning these exciting aspects of entrepreneurship has enabled me to think constructively about the way to materialise my research ideas into a commercial product."
The Enterprise Tuesday programme, managed and delivered by the Centre for Entrepreneurial Learning, is a free evening programme open to the local business community and all the staff and students of the University of Cambridge. It is proving ever more popular with the number of candidates submitting portfolios doubling, a 38% increase in registered attendance on the 06/07 series and an average of around 300 people attending each of the twelve lectures. During the last year, people have travelled from Cranfield, London, Manchester, Wales and even from Finland to attend lectures. The quality and expertise of speakers such as Karren Brady of Birmingham FC, Lord Karan Bilimoria of Cobra Beer and Duncan Goose of One Water, is clearly a draw and kept people engaged throughout the entire programme.
Over a quarter of the registered attendees are from the local business community which is around a five per cent increase on last year. One of the key benefits of the programme is that it brings the academic and business communities together adding to the chemistry in the networking sessions which follow on from each lecture.