Two engineering students Claire Grisaffi (4th year Civil Engineering), and Henry Travers (2nd year) both from King's College have recently returned from a solar power project in Pondicherry in South India.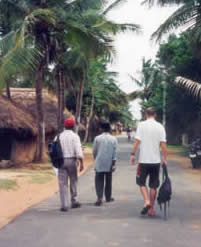 Many people in villages there are suffering in the recent drought and without regular electricity to supply water pumps there is extreme shortage of water for drinking and agriculture. Claire and Henry worked with local communities to produce a report about local electricity usage and the reliability of the electricity supply.
They were working as interns with a scheme known as "Engineers Without Borders" (EWB) which aims to help people in developing countries to gain access to the technologies they need to improve their lives.The organisation was founded in November 2001.
The report will be used as a basis for the installation of solar powered pumps and was the first stage in this process, which could alleviate many of the problems of the region.
EWB will be setting up research projects in Cambridge to take this research onto the next stage and will be sending more students out next year.