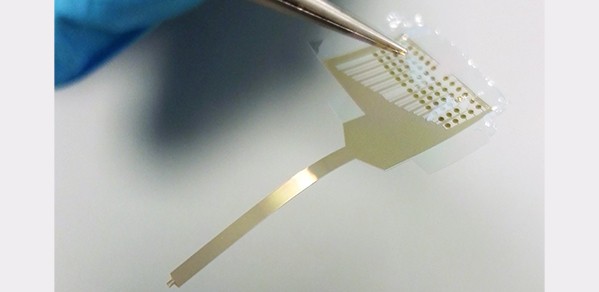 Researchers from the Department's Bioelectronics Laboratory have won investment from the European Innovation Council (EIC) to develop modern microelectronics to enhance the signal quality of a new generation of less invasive brain-computer interfaces (BCIs).
The MITICS project has the potential to bring about revolutionary change in the sensory layer that enhances signal quality of brain-computer interfaces. Its impact will be widespread across both the medical and entertainment industries.

Professor George Malliaras
The collaborative project titled MITICS – Mixed Ionic and electronic Transport In Conjugated polymers for bioelectronicS – involves industrial partners and five other universities and is among 58 novel, high-impact technologies to be funded under Horizon 2020, the EU research and innovation programme, having been selected by the EIC 'Pathfinder Open' Pilot. 
Brain-computer interfacing is an emerging technology that interprets brain activity patterns by forming a direct communication pathway between the brain and an external device. BCIs represent a promising technology for restoring function loss after neurological disease or injury, for example, and have uses in both rehabilitation and entertainment/gaming, but the potential of BCIs has been held back due to a trade-off between invasiveness and performance. 
MITICS aims to bring about a revolutionary change, by introducing a new family of transducers (a device that converts brain activity into electrical signals) – a core component of BCIs – with better signal quality compared to exiting electrodes. Using printed Organic Electrochemical Transistors (OECTs), MITICS will develop a highly sensitive and biocompatible amplifying transducer platform for less invasive and longer lasting BCIs. This new mechanically flexible and customisable technology will lead to significantly richer signals being gathered further away from the brain. 
Professor George Malliaras, Prince Philip Professor of Technology, leads an interdisciplinary group of scientists, engineers and clinicians at the Bioelectronics Laboratory, University of Cambridge. His group was the first to use transistors to record brain activity and now, through their involvement in MITICS, the group will continue their efforts in this area by testing the devices in rodents.
Professor Malliaras said: "This research is necessary in order to ensure that the brain-computer interfaces (BCIs) field does not get left behind. MITICS has the potential to bring about revolutionary change in the sensory layer that enhances signal quality. This, together with the adoption of printing processes that will allow custom designs and lower fabrication costs, will mean that the technology can be made available to the general population and patients – at scale. Its impact will be widespread across both the medical and entertainment industries, for example, in rehabilitation for brain injury and in remote communication for healthy individuals, such as, the adoption of BCI technology in Virtual Reality headsets and gaming content."