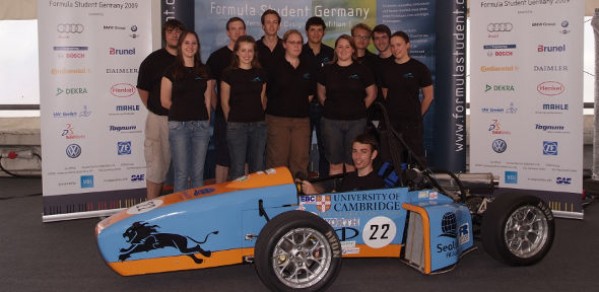 Full Blue Racing, the Cambridge University Formula Student team, have returned from the Formula Student Germany event in Hockenheim. Despite technical complications on the track, the team secured 2nd place overall in the cost event at the competition out of 89 entrants.
After successfully passing all the scrutineering from the judges, the team then struggled with an engine that did not want to start. Progress was hindered by one of the team's tuning experts getting stranded in Belgium! Whilst dynamic events continued to cause headaches, the team took the opportunity to shine in the static events where business, manufacturing and budgeting skills are tested by panels of judges.
Amongst an exceptionally strong field the team was pleased with 39th place in the business event (a Dragon's Den style pitch to investors, of the team's plans to sell the car as a weekend racer), and overjoyed to achieve 2nd place in the cost event.
The cost event tests the team's ability to design, manufacture and assemble a racing car on a budget - judges look for consideration of batch manufacture and mass assembly from the design phase right through to the assembly stage, with the teams entering a comprehensive dossier of costs associated with every part of the car - from the CNC machined aluminium uprights to every last nut, bolt and washer. At the competition the team discussed the dossier with the judges, using the actual car for reference, before presenting on a 'deep dive' topic - normally relating to cutting costs or considerations of moving to mass manufacture.
The team returned on the 11th August and immediately work started on the 2010 car. This is now well into the conceptual design stage, with suspension kinematics and packaging to be developed into the new term.
As part of the drive to make another step in 2010, Full Blue Racing is looking for new partners to support the development of the team and car over the next year. If you are interested, please visit the team's website - http://www.fullblueracing.co.uk, or email on getmore@fullblueracing.co.uk
The team are recruiting new members.