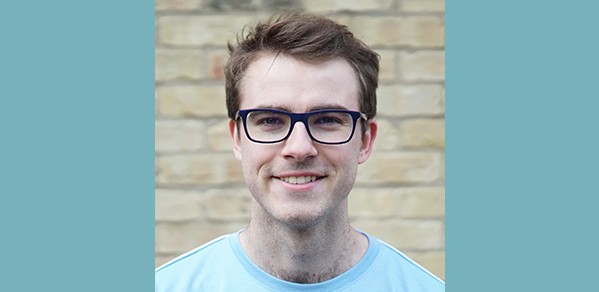 PhD student James Allingham has been awarded $40,000 in funding to support his machine learning research project with the potential to positively affect health-related or safety-critical applications, such as cancer diagnosis or automated driving, where computational resources are limited.
My ultimate career goal is to apply machine learning to solving climate change-related problems, but in the shorter term, I will focus on uncertainty estimation and robustness.

James Allingham
The Qualcomm Innovation Fellowship Europe programme rewards young researchers in the fields of artificial intelligence and cybersecurity, with individual funding, dedicated mentors from the Qualcomm Technologies team, as well as the opportunity to present their work in person to an audience of technical leaders at the company's HQ in San Diego.
James, who is supervised by Dr José Miguel Hernández-Lobato in the Department's Machine Learning Group, was selected for his proposal titled Diversity-encouraging Priors for Cheap but Well-calibrated Uncertainty in Deep Learning.
Standard deep neural networks are used very successfully in many applications, from virtual assistants to self-driving cars, but these networks are often overconfident and remain unable to robustly and reliably quantify uncertainty in their predictions. Existing solutions for uncertainty quantification require strong approximations and significant computational resources, but there is room for improvement regarding the accuracy and the calibration of the results.
James proposes a method that encourages diversity among the predictions made by a model. By making a number of diverse predictions, a model is less likely to be overconfident, and more able to make accurate predictions. James also plans to release an open-source library for training and deploying the resulting models.
"I don't always know whether I am going down the rabbit hole of curiosity or working on problems that actually matter – receiving the fellowship tells me that it is the latter, which is a big motivation," he said. "It was also a great boost to my self-confidence to be selected as one of the winners, when many fantastic applicants were also working on important problems."
James added: "My ultimate career goal is to apply machine learning to solving climate change-related problems, such as weather prediction, so as to allow for better planning for renewable energy production. In the shorter term, I hope to make concrete contributions to the field of machine learning, with a particular focus on uncertainty estimation and robustness."
Dr Hernández-Lobato said: "James's contributions will enable fast and reliable uncertainty estimation when making accurate predictions with neural networks. The impact of these methods will be broad across a wide range of disciplines that require fast and robust decision-making, for example, in self-driving cars, robot control or medical image analysis."
Jim Thompson, chief technology officer, Qualcomm Technologies, Inc., said: "We are proud to see the next generation of inventors bring their work to fruition. The machine learning and cybersecurity solutions they propose can have a significant positive impact on society. Through the Qualcomm Innovation Fellowship programme, we aim to break down some of the barriers that researchers encounter by providing funding and fostering collaboration."