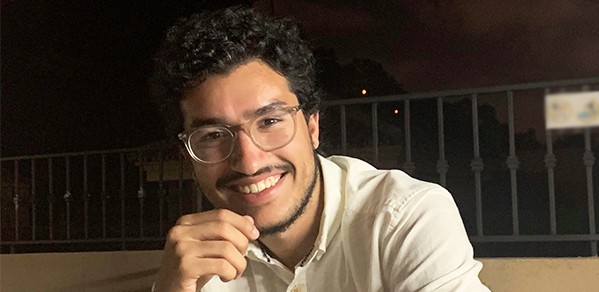 Fresh from completing his Master of Engineering (MEng) degree specialising in Information Engineering, Yassir Fathullah returns this term, a recipient of a Gates Cambridge Scholarship, to study for a PhD. We caught up with Yassir to find out more about his research into improving the efficiency of deep neural networks, which are used in everything from virtual assistants to self-driving cars.
One of the best things about Cambridge is how diverse it is. I grew up in a small town in Sweden, so moving to Cambridge has allowed me to make friends with lots of new people from all over the world.

Yassir Fathullah
I cannot tell you how surprised and excited I am to have received such an influential scholarship. I am also excited to meet the other recipients of the scholarship and learn more about them and their research. Whilst studying at the University of Cambridge, I conducted multiple research projects with a special focus on a family of versatile models able to identify and utilise complex patterns in data. Such models are called deep neural networks and they can be applied to areas ranging from speaker diarisation (the technical process of splitting up an audio recording into segments) to active learning (machine learning).
Artificial neural networks are a family of very flexible models that can learn all sorts of patterns and relations. However, currently there is little understanding for how they work, and one issue in particular, is in knowing when a neural network makes an unreliable prediction. My plan is to develop efficient techniques that can identify when a model is uncertain, as this is important for safety critical and sensitive domains.
For anyone in the process of figuring out what and where to study, I would advise against ruling out Cambridge as an unlikely and far-fetched idea – with a strong will and good preparation, the image of studying at Cambridge is much closer to reality, than it is an idea. The special thing about studying Engineering at Cambridge is that the course is general for the first two years and this really helps one to find an area of interest. Combine this with lots of opportunities to get involved in research projects as an undergraduate and Cambridge becomes the perfect place for interested students to find out what kind of research they enjoy. Personally, I quickly realised that Information Theory and the more "compsci" side of engineering interested me more. I eventually got involved in a research project over a summer and now, here I am, starting a PhD in Engineering.
In addition to being a world leading university, one of the best things about Cambridge is how diverse it is. I grew up in a small town in Sweden, so moving to Cambridge has allowed me to make friends with lots of new people from all over the world. These friends may come from various backgrounds that "on paper" are different, but in reality, you have much in common, and they can make your time at Cambridge so much better.
Since a young age, I have been motivated to obtain the best possible education, especially in science and math. My parents are Iraqi refugees who knew, from the moment they arrived in Sweden, that education would be the most important thing, from learning the language to obtaining a university degree. However, friends of mine with the same immigrant background did not have the same priority and I could see how much they had to struggle, especially if they did not receive support at home. I therefore feel a sense of duty to help those who come from a similar background to me, from tutoring in local schools to leading efforts to promote legal aid for refugees. The joy of helping people has become another source of motivation in continuing my own education, and I hope that my efforts will help inspire others.
About the Gates Cambridge class of 2021
This year's cohort comprises 74 new scholars. They are joined by 10 scholars who are deferring from 2020. The 84 scholars, who come from 30 countries, began their studies in October. The class comprises 42 women, 31 men and one non-binary scholar. The Gates Cambridge scholarship programme, which this year celebrates its 20th anniversary, is the University of Cambridge's leading international postgraduate scholarship programme.