The Cambridge University Engineering Society (CUES) has held its first-ever Hackathon. Organised in collaboration with ARM, participants had the opportunity to use ARM microcontrollers, sensors and other products in the mbed system to design their creations. The event drew in more than 100 students not only from engineering but from many disciplines across the University.
The theme of the Hackathon was wearables. Teams were instructed to develop an electronic wearable product within 24 hours that uses the ARM mbed platform.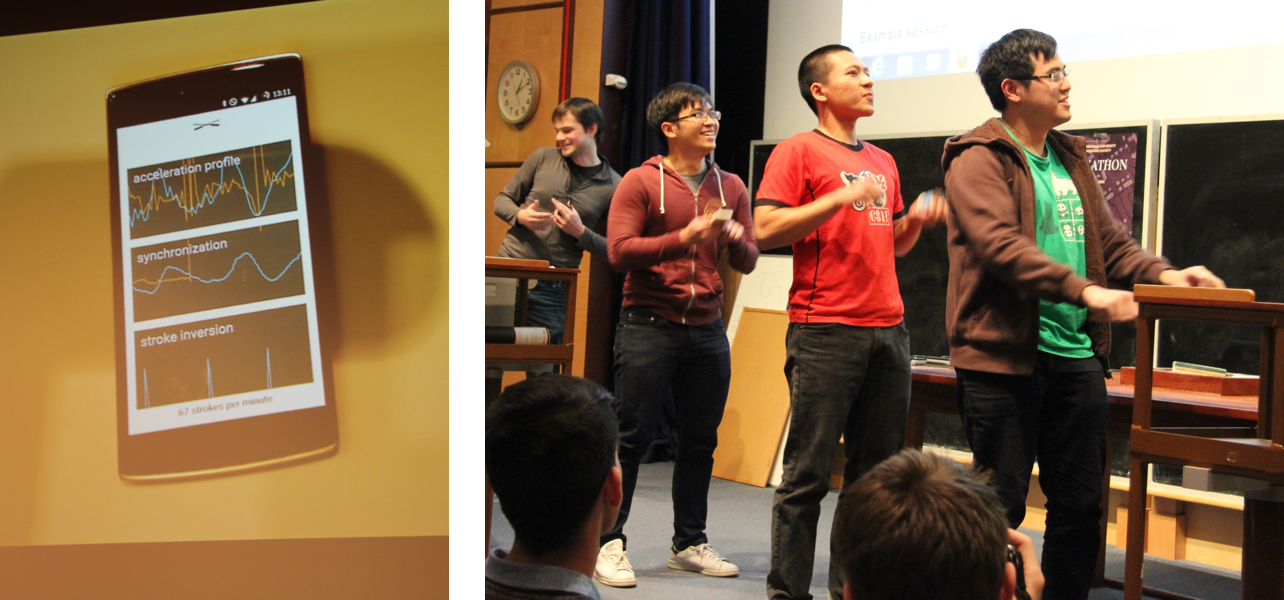 Rowbot
Credit: ARM Ltd and the mbed team
First prize went to Tomas Cerskus, Quang Ha and Josiah Yan for their Rowbot Personalised Rowing Device. They developed a miniature wireless device that attaches near the rower's wrist and streams real-time acceleration data to a mobile phone. The device can both analyze data by itself and give personalized advice, or can be used by the team coach to track the performance of the team.
The second-place team built what they called Internet of Decks – lights that can be attached to clothes which beat in time to music. Team members George Fortune, Agnes Cameron and Jamie Wood embedded light-emitting diode strips in a dress that flash in a range of patterns based on signals from a beacon and an app that users download to their phones.

Internet of Decks
Credit: ARM Ltd and the mbed team
Other creations included
Smart Bin, a waste bin with flex sensors to measure weight and light sensors that detect when the bin is full
Childcare, a set of bracelets for children and their parents that buzz if a child gets too far, alerting the parents
Sygnal, a bracelet that provides information (such as the time) via vibration without you having to check your watch or retrieve your mobile
Panic Button, a small button you press when you're feeling unsafe that alerts nearby Facebook friends to alert them of the danger
Slipper Alarm Clock, an alarm clock embedded within a pair of slippers that only shuts off when the user puts the slippers on.
"I would like to see more such events, both as an ex-student and an ARM employee," said Leo Zhou, one of the ARM engineers who assisted with the Hackathon. "It really engages enthusiastic students and gets them into electronics and programming."
Students interested in similar design challenges are encouraged to explore the upcoming Open Technology Week taking place in the Department of Engineering's James Dyson Building this 9–15 June. This includes the Open Technology for Development Make-a-thon, which will encourage students to solve design problems from international development and humanitarian contexts. Interdisciplinary undergraduate teams will compete over five days using open-source technologies to learn, explore and innovate through challenges put forward by the Centre for Global Equality.