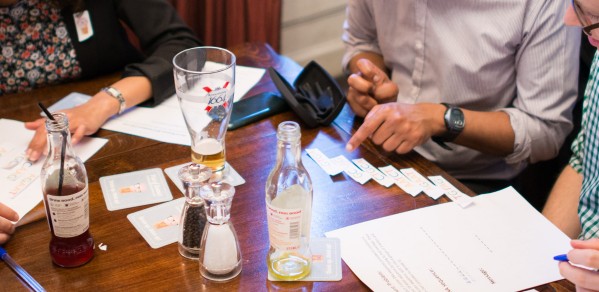 Two researchers from the Department of Engineering will hold talks during Cambridge's Pint of Science event in pubs across the city.
Pint of Science, an annual festival dedicated to providing fun talks on current science research, comes to Cambridge this 18–20 of May. Taking place simultaneously in more than 50 pubs in 21 countries across the world, the event brings people interested in science together with the researchers who conduct it.
This year, two Department of Engineering lecturers will take part: Professor Andrea Ferrari and Professor Daniel Wolpert.
Professor Ferrari is founder of the Cambridge Graphene Centre and a professor of nanotechnology in the Department's Electrical Engineering Division. In his talk, he will ask the question: is graphene the material of the 21st century? He will then provide a roadmap to how the potentially disruptive technology might emerge, including short-term milestones and long-term targets, and document the potential benefits to society.
His talk, 'Graphene Future Emerging Technology,' takes place during the 'Living in a Material World' event at the Cambridge Brewhouse on Monday, 18 May, at 6.30 pm.
Professor Wolpert is head of the Computational and Biological Learning Group in the Information Engineering Division. His research aims to uncover the basis of skilled motor behavior in humans. In his talk, he will explore the complexity of control processes that make it so difficult for robots to match the dexterity of humans. He also will delve into our uncertainty about the world as reflected in our sensory and motor signals and how the brain adapts to control movement in the face of uncertainty.
His talk, 'How the Brain Controls the Body,' is part of the 'Moving Minds' event at the Castle Bar on 18 May at at 6.30 pm.
Tickets for the Pint of Science events are available on the organisation's website. A link can be found on the right side of this page.