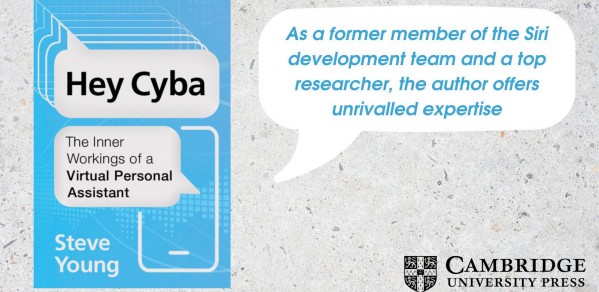 Steve Young is Emeritus Professor of Information Engineering. His new book "Hey Cyba" explains through examples and diagrams, the neural network technology underlying speech recognition and synthesis, natural language understanding, knowledge representation, conversation management, language translation and chatbot technology.
Hey Cyba, written by one of the giants in the field of man-machine interfaces, provides an in-depth guide to the workings and future of conversational personal assistants. Written in the first person style of the computer itself, this is a highly engaging, informative and authoritative read.

Dr Hermann Hauser, Amadeus Capital Partners
Recent developments in artificial intelligence (AI), especially neural network and deep learning technology, have led to rapidly improving performance in voice assistants such as Siri and Alexa. Over the next few years, capability will continue to improve and become increasingly personalised. 
Today's voice assistants will evolve into virtual personal assistants firmly embedded within our everyday lives. Told through the view of a fictitious personal assistant called Cyba, the book provides an accessible but detailed overview of how a conversational voice assistant works, especially how it understands spoken language, manages conversations, answers questions and generates responses. 
"Hey Cyba" explores the implications of this rapidly evolving technology for security, privacy and bias, and gives a glimpse of future developments.
The book is published by Cambridge University Press and is now in bookshops. 
Cyba also has a web site at HeyCyba.com which contains videos and further information about AI and the workings of personal digital assistants.
Steve's main research interests lie in the area of AI, especially spoken language systems. He has published widely on the subject and founded two companies: Entropic acquired by Microsoft in 1999 and VocalIQ acquired by Apple in 2015, following which he worked in the Apple Siri Development team.
Steve served as the Senior Pro-Vice-Chancellor of the University of Cambridge from 2009 to 2015. From 2015 to 2019, he held a joint appointment between his professorship at Cambridge and Apple, where he was a senior member of the Siri development team. He is a Fellow of the Royal Society and a Fellow of the Royal Academy of Engineering.