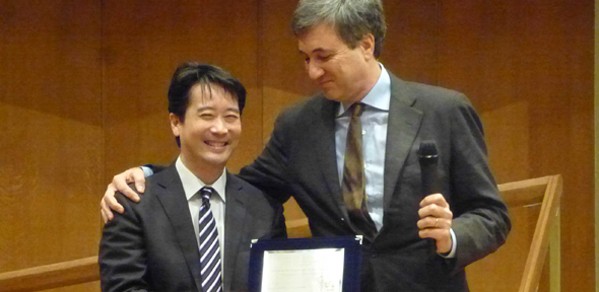 Professor Kenichi Soga, Professor of Civil Engineering at the Department of Engineering, was invited by the Council of the Italian Geotechnical Association (AGI) to deliver the twelfth Croce Lecture at the Italian National Research Council in Rome, Italy.
Professor Soga's lecture was entitled "Understanding the real performance of geotechnical structures using innovative sensor technologies".  He explained that over the past fifteen years, piling and deep excavation have become deeper and there is a need to understand the performance of large geotechnical structures so that they can be built more efficiently, economically and safely.
He talked about how the Department of Engineering's Centre for Smart Infrastructure and Construction (CSIC) has developed state-of-the-art fibre optic sensing and computer vision monitoring technologies for geotechnical applications.  He presented several case studies illustrating how engineering performance information can be extracted from the monitoring data obtained using these technologies, based on recent work undertaken by his PhD students Tina Schwamb and Mehdi Alhaddad and Research Associate Dr Loizos Pelecanos.
The annual lecture is historically given by an Italian professor, but since the tenth lecture the AGI have invited professors from overseas to speak every other year.  Professor Soga is the second foreign professor to deliver the lecture which is dedicated to the memory of the late Professor Arrigo Croce, first professor of Soil Mechanics in Italy, former President of the Italian Geotechnical Society and former Vice-President for Europe of the International Society for Soil Mechanics and Foundation Engineering.