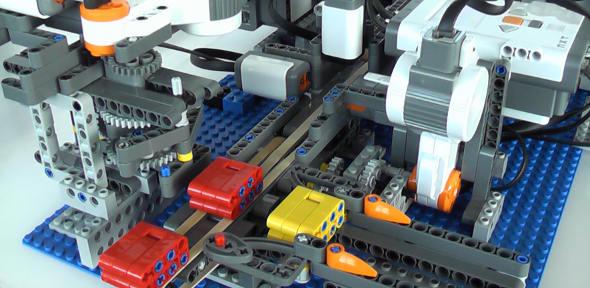 With support from the Royal Academy of Engineering, the Cambridge Engineering Design Centre (EDC) has developed a new Graduate module in Systems Engineering, combining informal talks on a wide range of practical issues with hands-on sessions investigating the design of a pallet handling line.
Session 1 [Introduction to Integrated Systems Design] got me thinking about 'the systems engineer' and really made me look forward to each of the subsequent sessions.

Graduate student, 2012
Simple calculations, Discrete Event Simulation (DES) and a Lego Mindstorms model - "Legoline" - are all used to illustrate the challenges faced by engineers designing real-life systems.
Led by Tony Purnell, the former principal of the Jaguar and Red Bull Formula One teams and Academy Visiting Professor in Integrated System Design, and Professor John Clarkson, Director of the EDC, Drs David Delamore and Alexander Komashie developed a course, entitled Integrated Systems Design, which was first delivered to 1st year graduate students in the Department during the Lent term of 2012.
Legoline was first developed in 2010 by undergraduate Konrad Newton in his final year MEng project. It was subsequently upgraded by David and Alexander, and in the summer of 2012 radically improved by Tom Neat and Nikki Phoolchund, both final year students in the Department, as part of the national Undergraduate Research Opportunities Program (UROP).
Tom and Nikki will continue the development of Legoline in their own MEng projects. They will explore the impact of different levels of control, from local autonomous control to global supervisory control, on system performance and develop an easily reconfigurable pallet handling system.
The video shows an overview and details of the current Legoline system, comprising 11 mindstorms controllers, 29 motors and 39 light, touch and colour sensors. Pallets are fed from three feed units, each onto a transfer line. The transfer lines then feed the pallets onto a 'main' conveyor which transports them down the factory and 'split' onto separate lines for storage and transport. This mimics a typical factory layout and allows investigation of the practical limits on pallet feed rates for reliable handling.