Two prestigious Leverhulme Early Career Fellowships have been awarded to a researcher and an alumnus of the Department.
This award has given me the confidence to be comfortable in my own space and comfortable with my own approach to research – this is so important to an early career researcher.

Dr Ubaid Ali Qadri, Leverhulme Early Career Fellow
The aim of the Fellowship is to provide career development opportunities for those who are at an early stage of their academic careers, but already have a proven record of undertaking research.
Dr Volker Deringer
Dr Volker Deringer is a computational materials chemist. He uses theory and computer simulations to study the atomic-scale structure of solid-state materials and how this determines their properties. In particular, Dr Deringer aims to gain new insight into disordered, so-called 'amorphous' materials for practical applications.
He joined the Department in 2015 as a Fellow of the Alexander von Humbolt Foundation, and took up his Leverhulme Early Career Fellowship in October 2017. He is also partly supported by the Isaac Newton Trust.
"I'm very grateful for this opportunity," he said. "Cambridge is an ideal place for connecting with people from diverse scientific disciplines, which today is more important than ever. I'm very fortunate to have excellent collaborators and academic mentors here, and I'm very much looking forward to expanding our work together."
When asked about his research, Dr Deringer added: "The practical properties of any material depend on its atomic-scale structure. In many solids, the atoms are carefully ordered into periodic lattices (crystal structures), but in others they are not: window glass is a well-known example, but there are many more, and we call these materials 'amorphous' (without shape). Even some of the most fundamental building rules in these materials are far from fully understood. This is an intriguing challenge for basic research and also directly relevant for applications: amorphous materials are used in many technologies such as solar cells, batteries, or digital memories."
In his work, Dr Deringer uses quantum mechanics (which is a highly accurate approach, but computationally very expensive), as well as machine learning algorithms to make these simulations faster and more realistic.
Within the Department's Division C (Mechanics, Materials and Design), he works closely with Gábor Csányi, Professor of Molecular Modelling who, with his group, developed a powerful method to 'teach' quantum mechanical data to a machine learning algorithm.
"This method allows us to look at complicated atomic structures that have been far out of reach for quantum mechanics, including amorphous materials. There are many exciting opportunities ahead," said Dr Deringer.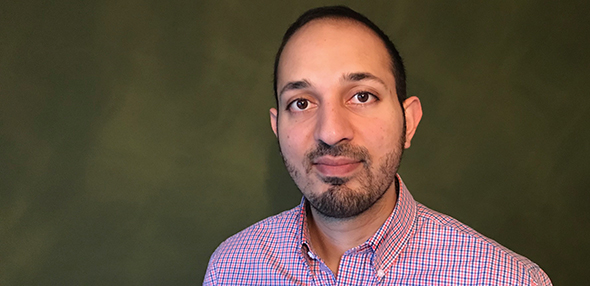 Dr Ubaid Ali Qadri
Dr Ubaid Ali Qadri is an alumnus of the Department (Trinity, 2013) and currently works for Ricardo, developing software that is used for simulating the flows inside internal combustion engines. Dr Qadri is due to start his Fellowship at Cambridge in May 2018. Titled Optimising ignition in unsteady reacting flows, the Fellowship is centred on the question: What is the best place to ignite a mixture of fuel and air?
"In a simple flow, the question would be easy to answer; you would just spark the mixture where the ratios of fuel and air are in the right proportion for the chemical reaction to take place," he said. "Practical flows, however, are highly unsteady and increasingly feature mixtures with less fuel and more air to meet environmental regulations.
"The answer to this question is not so straightforward. In this Fellowship, I use ideas from control theory to predict the optimal ignition location in these flows with minimal computational cost."
He added: "I'm extremely humbled by this award. It is such a massive vote of confidence. In the unrelenting world that is academia, it is very easy to get left behind or feel a sense of underachievement as you see the amazing work that is being done in your field.
"This award has given me the confidence to be comfortable in my own space and comfortable with my own approach to research – this is so important to an early career researcher. This would not have been possible without the support I have received from my supervisors: Professor Matthew Juniper at Cambridge and Professor Peter Schmid and Dr Andrew Wynn at Imperial College London. I'm extremely grateful for their guidance and support and excited to see the path that this Fellowship takes me on."
To find out more about eligibility and application information for Leverhulme Early Career Fellowships, click here.