Baroness Platt of Writtle, President of the Cambridge University Engineers Association (CUEA) 1987-2001, was recently presented with a gift by Professor David Newland to mark her retirement in September this year.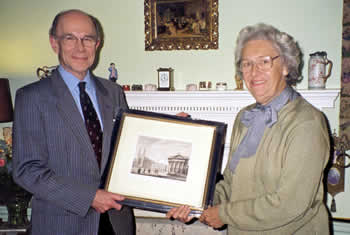 He visited her at home to present an antique print of the Senate House and King's college chapel dated 1795, on behalf of the Association of which he is Chairman.
Baroness Platt, who graduated from the Engineering Department in 1943 and went on to become Chairman of the Equal Opportunities Commission, became President of the CUEA in 1987.
The new President of the Association is Viscount Montgomery of Alamein, who graduated from the Department in 1951. There are currently over 6000 registered members of the CUEA, which is the association for former members of the Department of Engineering and Chemical Engineering.