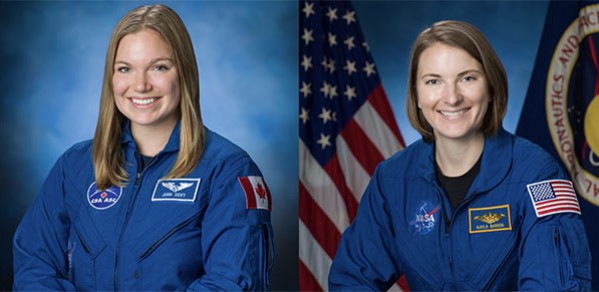 Cambridge lecturer Dr Jenni Sidey-Gibbons and Gates Cambridge Scholar Kayla Barron have become fully fledged astronauts, beginning careers in exploration that may take them to the International Space Station, on missions to the Moon under the Artemis program, or someday, Mars.
These individuals represent the best of America, and what an incredible time for them to join our astronaut corps.

NASA Administrator Jim Bridenstine
Jenni (Canadian Space Agency) and Kayla (NASA) graduated alongside 11 of their peers, on Friday 10 January, after successfully completing more than two years of required basic training. 
During the ceremony, broadcast live, each new astronaut received a silver pin, a tradition dating back to the Mercury 7 astronauts, who were selected in 1959. They will receive a gold pin once they complete their first spaceflights.
As Jenni and Kayla took to the stage to collect their pins, their peers were asked to detail why they would love to explore space with each of them.
Commenting on Jenni, NASA astronaut Warren Hoburg said: "Jenni has this infectious curiosity about the world around her. I have so many fond memories from trips with Jenni and our engineering discussions, whether it's looking at a rocket and wondering why is that beam there or standing in an ice cream line calculating vortex shedding frequency or just really seeing the optimism in all the small things in life. Jenni is an outrageously effective crew member, she's outrageously smart, she's outrageously fun to be around and she's just going to be a fantastic crew mate."
Commenting on Kayla, NASA astronaut Jasmin Moghbeli said: "One of the things I admire most about Kayla is her willingness to stand up and speak the truth, even when it's really difficult or when no one else wants to do it. I think courage and integrity is really important in what we do and so Kayla, whether I'm with you or not when you go to space, I can't wait to see all the amazing things you're going to do up there."
Jenni and Kayla are among the first astronauts to graduate since NASA announced its Artemis program. With a goal of sustainable lunar exploration later this decade, NASA will send the first woman and next man to the surface of the Moon by 2024. Additional lunar missions are planned once a year thereafter and human exploration of Mars is targeted for the mid-2030s.
As part of their astronaut candidate training (view the image gallery), both women took part in instruction, practice, and testing in spacewalking, robotics, International Space Station systems, T-38 jet proficiency, and Russian language. As astronauts, they will help develop spacecraft, support the teams currently in space and ultimately join the ranks of only about 500 people who have had the honour of going into space. NASA continues its work aboard the space station, which, in November, will celebrate 20 consecutive years of human occupation. The agency is also on the verge of launching astronauts again from American soil aboard American commercial spacecraft, and is preparing to send humans to the Moon as part of the Artemis program.
"These individuals represent the best of America, and what an incredible time for them to join our astronaut corps," said NASA Administrator Jim Bridenstine at the agency's Johnson Space Center in Houston where the graduation ceremony took place. "2020 will mark the return of launching American astronauts on American rockets from American soil, and will be an important year of progress for our Artemis program and missions to the Moon and beyond."
About Dr Jenni Sidey-Gibbons
Dr Sidey-Gibbons was recruited to the Canadian Space Agency as a member of the 2017 NASA astronaut class. A Lecturer in Internal Combustion Engines at the University of Cambridge, she is one of the Department of Engineering's ambassadors for Engineering Diversity and helped form Cambridge Robogals in 2014, an international, not-for-profit, student-run organisation that aims to increase female participation in STEM. 
About Kayla Barron
Gates Cambridge Scholar Kayla Barron achieved a Master's degree in Nuclear Engineering from the University of Cambridge. She conducted research on modelling the fuel cycle for a next generation, thorium-fuelled nuclear reactor concept. Lieutenant Barron joined the 2017 NASA astronaut class from the U.S. Naval Academy, where she had served as the flag aide to the superintendent
It's a new day. It's a new dawn.

A new class of patriots graduates to the active astronaut corps! After completing basic training, these trailblazers will be eligible for future missions to the Moon and Mars! Excited to watch you begin your journeys today! #NewAstronauts pic.twitter.com/reV7HJvbv2

— Buzz Aldrin (@TheRealBuzz) January 11, 2020