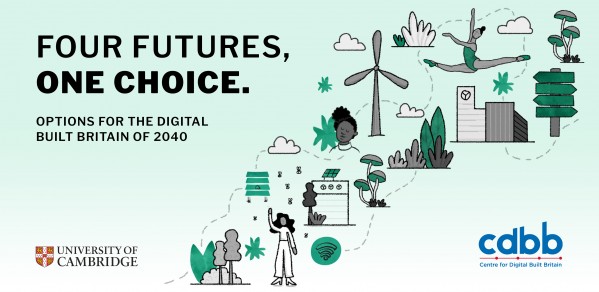 A new book written during the COVID-19 pandemic and global climate crisis paints a picture of how the choices we make today are vital in shaping our future built environment world – and asks us all to decide what sort of society we want to live in.
While we can't guarantee, with any certainty, the outcomes our decisions as society, policy makers or decision-makers in the built environment will have, exploring future scenarios helps us identify the direction we would prefer and ultimately which way we should steer.
'Four Futures, One Choice – Options for the Digital Built Britain of 2040' presents possible futures for the built environment to provide insight into how we can take swift and decisive actions to support a flourishing future and reduce our negative impact on the global environment. 
Developed by the Centre for Digital Built Britain (CDBB) as part of the Construction Innovation Hub's transformative programme, the multi-disciplinary group of contributing authors are researchers at CDBB and includes:  
'Four Futures One Choice' brings focus to opportunities presented as we plan recovery from COVID-19, the role of data to support and enhance sustainability and equality, and the potential of the UN Sustainable Development Goals to shape the built environment world of the future. Highlighting four possible scenarios for 2040: A legacy of hope; Generation zero; Resigned to our fate; and Too little, too late; the book considers Britain's economy, society and environment to explore the influencing factors and trends involved in each scenario, and the complexities of the interconnecting systems that shape these dimensions.
Construction Innovation Hub Programme Director Keith Waller said:
"The scenarios explored in this book reinforce the need to move on from opting for the cheapest option and instead shift the focus towards what's best for the future. Our Value Toolkit is designed to get the sector thinking and talking more about value and reframe the way decisions affecting the built environment are made and ensure that impacts on the environment and society are considered as part of this process.
"Another area where we are actively working to shape the future is our focus on digitally designed components. Our Platform Design Programme will develop and embed these principles, helping to create new platform solutions that can be deployed across multiple projects and sectors so that the components can be used as part of a school, hospital, prison building or station. By working with industry, we aim to identify, refine and develop solutions that can be deployed at scale.
"If we make the right choices now, we can look forward to a transformed natural and built environment in 2040 that is powered by a growing skilled construction workforce, highly literate in using data securely for the public good."
Professor Danielle George MBE President of the Institution of Engineering and Technology (IET) said:
"This book explores some of the broad spectrum of actions that will be needed over the next 20 years if we want to close this gap and make our built environment greener, cleaner and safer. It is imperative that the industry works together to achieve the United Nation's (UN) sustainable development goals and keep us within targets for carbon emissions, all while ensuring people are supported through the likely long- term economic impact of the COVID-19 pandemic."
Mark Enzer OBE Chair of CDBB's Digital Framework Task Group said:
"Whatever 2040 brings, there is a common strand in all the scenarios that we can be almost certain about: that greater digitalisation and increased use of technology will have a crucial part to play in our lives. Whether we are faced with a dire future in which the climate emergency has become more acute and there is an ageing and dependent population, or a more hopeful future where we have managed to limit global temperature rise and are beginning to achieve the sustainable development goals, there can be real benefits of using data for the public good."
The e-book is now available at: https://www.cdbb.cam.ac.uk/fourfutures
More details at the CDBB website.