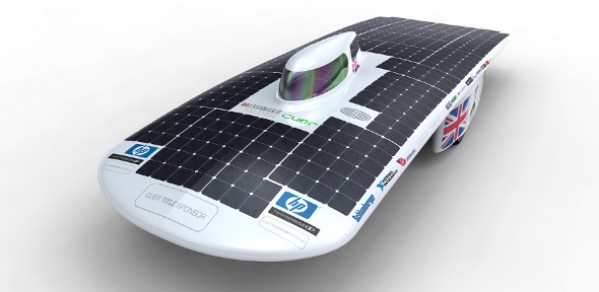 Cambridge University Eco Racing (CUER) has released images of the team's new solar-powered racing car design. The vehicle, currently codenamed 'Bethany', will compete in the World Solar Challenge in Australia in October 2009. The independent student team, sponsored by Cambridge Precision and HP, hopes to provide the UK's best ever performance in the 3000km endurance race across the Outback. They will compete against university and corporate teams from across the world, some with budgets of over £1million.
By taking an uncompromising approach to efficiency and performance, CUER has developed a vehicle capable of cruising at 60mph using the same power as a hairdryer. The car will weigh just 160kg and sports 6m2 of the world's highest efficiency silicon solar cells. In order to achieve the car's extraordinary performance, CUER's engineering team has systematically reduced energy usage for each part of the car. Aerodynamics, rolling resistance, weight and electrical efficiency have all been optimised to create a vehicle that uses up to 50 times less power than a normal petrol car and has potentially infinite range. Extensive computer modelling and simulation have been necessary to achieve this, using Dassault Systèmes' SolidWorks and Simulia packages for mechanical design, ANSYS's Fluent for aerodynamic simulation, as well as National Instrument's LabVIEW and The MathWorks' MatLab and Simulink for systems modelling.
Under its solar skin, the racing car is simply an ultra-efficient electric vehicle. The technologies used are therefore applicable to the commercial electric cars that are beginning to appear on our roads. Technologies used include a 98% efficient electric hub motor, control systems providing battery management (supplied by REAPsystems) and regenerative braking, lightweight mechanical design, and carbon fibre composite bodywork. CUER's Team Manager, Anthony Law, commented: "At a time when the automotive industry is being forced to look at a low-carbon future, our vehicle demonstrates the enormous potential of electric vehicle technologies. Transportation currently accounts for around 35% of the UK's energy use so this is obviously an area in which we can have a big impact on climate change."
During the race across the Australian outback from Darwin to Adelaide, four drivers will rotate in four-hour driving shifts. The drivers will undergo months of training to cope with the intense heat of the Australian sun and their unusual seating position. During the race they will only be required to steer the car and stay alert, because the vehicle's advanced cruise control system (built using HP and National Instruments hardware) will automatically adjust its speed according to road conditions and weather forecasts.
The CUER team has used the experience gained from building the prototype vehicle, 'Affinity', in the new "Bethany" design. Affinity was the first solar-powered car to drive legally on UK roads and the team drove it from Lands End to John O'Groats in June 2008. The team is now part way into the manufacture of the new World Solar Challenge '09 car, with moulds currently being machined from material supplied by Huntsman Advanced Materials and the canopy being built by A V Engineering Services, whilst Cambridge Precision is machining hundreds of other components. Technical Director Charlie Watt said: "Manufacture is progressing well and we hope to have a finished car by June, leaving us time for extensive testing in the run up to the race." The official launch of the new car is expected to take place in July.
CUER will be exhibiting Affinity at CleanEquity Monaco on 19th and 20th March 2009. CUER sponsorship packages are still available at all levels for the World Solar Challenge. Interested parties should visit www.cuer.co.uk/sponsorship or email sponsorship@cuer.co.uk to find out more.