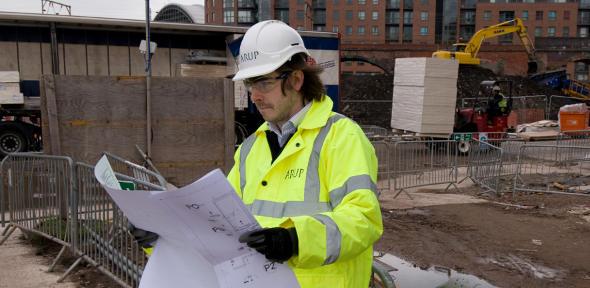 A last minute surprise awaited winners of the New Civil Engineer (NCE) Graduate Awards when prize money was increased by 50% in recognition of their exceptional talent. A record 140 entries, from countries as distant as India, Kazakhstan and the United Arab Emirates, gave the 12th annual NCE Graduate Awards judges a major challenge. Not only did they have to mark them; but the high quality of the entrants made it exceptionally difficult to select the six finalists.
Chris Lonergan who graduated from the Department in 2007 was joint runner-up and won £750. Chris is, he insists, a 110% structural engineer.
At Cambridge University he thought the first two years of general engineering invaluable, as it highlighted the importance of understanding wide ranging engineering principles. "Studying the workings of aircraft or racing car engines taught me to think logically when trying to achieve economic, practical designs," he says.
Also at Cambridge he began living his "greatest achievement", "Just getting to such a great university made me feel immensely proud," he recalls.
Chris joined the Arup division charged with designing sports stadiums. And the now 23 year old has already spearheaded complex foundation designs for a prestigious Middle East stadium.
That his boss trusted him to explain the complex foundation design face to face with the local planning authorities – subsequently securing essential approval – led the Arup director to comment: "Chris is one of the best graduates I have ever worked with."
Now an accomplished lead guitarist in an upcoming group, Chris is a different sort of music fan – one who arrives early at a Wembley or Millennium stadium gig just to admire the structures. "Totally on top of his game – self assured and authoritative," said the judges.
Graduate structural engineer, Arup
First Class MEng Cambridge University
Four year running top of the class academic scholarship
Chris has co-authored a paper on 3D software design published in 'The Structural Engineer' Volume: 87 Issue: 3 Thursday 12 February 2009 edition. Title: Use of 3D software in stadia design. Sam Styles and Chris Lonergan of Arup discuss the need for engineers to understand and be able to adapt 3D computer programmes used in design